3D Printing Trends, first half of 2016
3D Hubs periodic trend report provides a unique perspective on the current state of the 3D printing industry. Learn what the most popular printers, manufacturers and materials are. The report is based on the data from our 3D Hubs community with well over 32,000 printer listings and thousands of 3D print jobs.
Looking for which 3D printer to buy? Check out the 2016 Printer Guide, our comprehensive report based on reviews of 5,350 verified 3D printer owners.
Ultimakers just keep trending! The Ultimaker 2+ Extended takes the crown amongst the trending printers again, growing a strong 54.1% MoM. At the 2nd spot now it's accompanied by its smaller brother the Ultimaker 2+ which came up one position this month. Lastly, the Ultimaker 2 Go also made our top 10, taking the last spot.
Formlabs' Form 2 climbed up one spot to take the bronze this month. The professional SLA printer has been in the top 5 since January 2016, showing strong and continuous growth.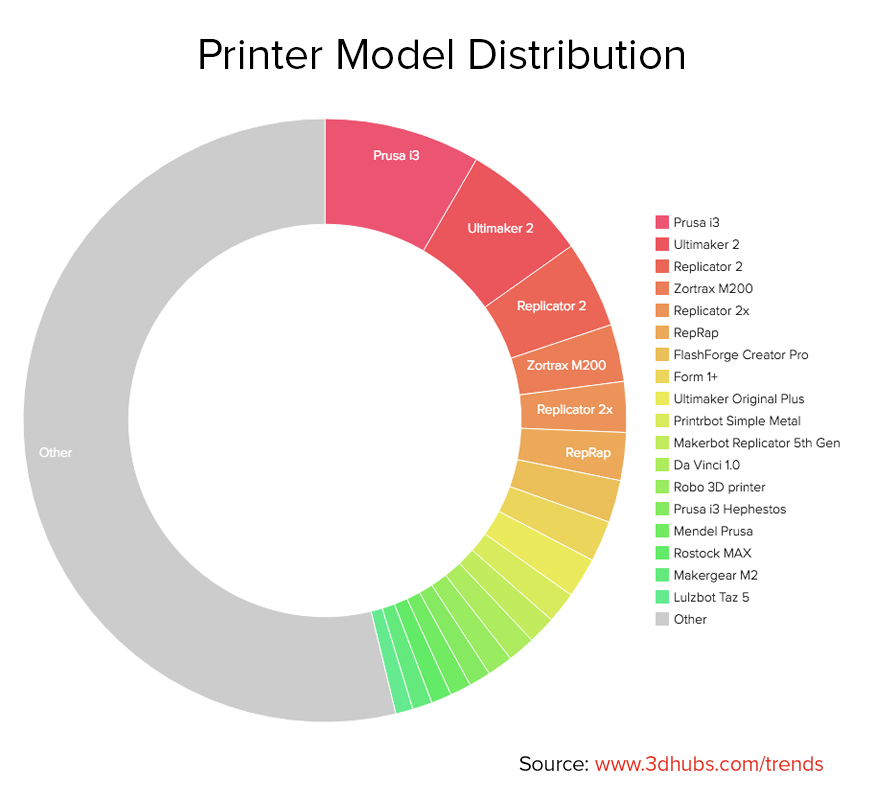 The Prusa i3 has reached the 2500 printer milestone as it now has a sizable lead ahead of the Ultimaker 2. The Flashforge Creator Pro climbed up 2 positions at once and now claims the 7th spot, ahead of the Form 1+.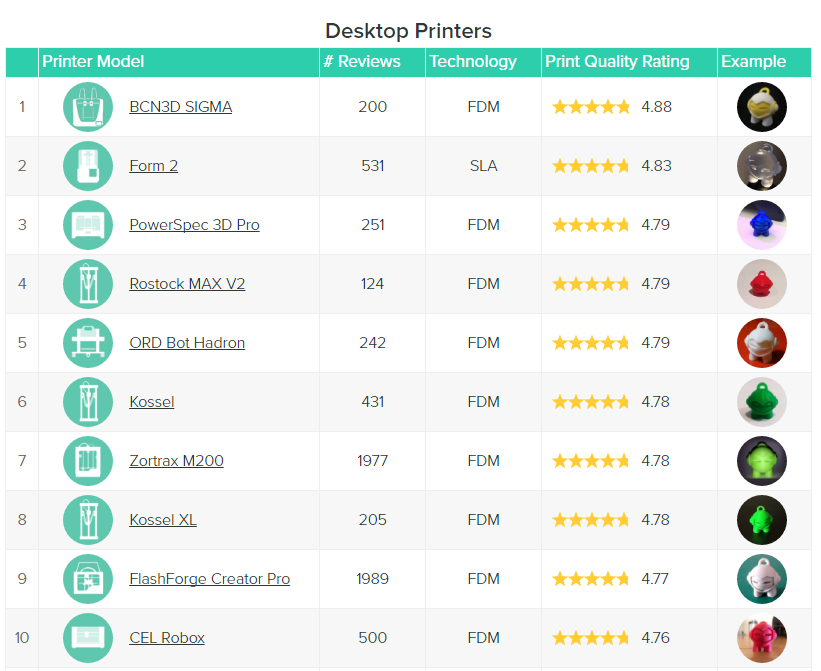 The BCN3D Sigma has been rocking the highest rated desktop printers chart for 4 months now. The dual extrusion 3D printer has even managed to increase its ratings to 4.88 as its prints reached 200 customer reviews.
Form 2 takes the silver again as the sole non-FDM printer in the top 20. The last step on the podium goes to the PowerSpec 3D Pro again, a Replicator 2 offspring from China which apparently prints with stellar results for less than $1,000.
The updated version of the popular Delta-style printer, the Rostock Max V2 debuted on our list at the 4th position, ahead of the ORD Bot Hadron.
Source: 3D Hubs