3D Printed Raspberry Pi Powered Pikon Telescope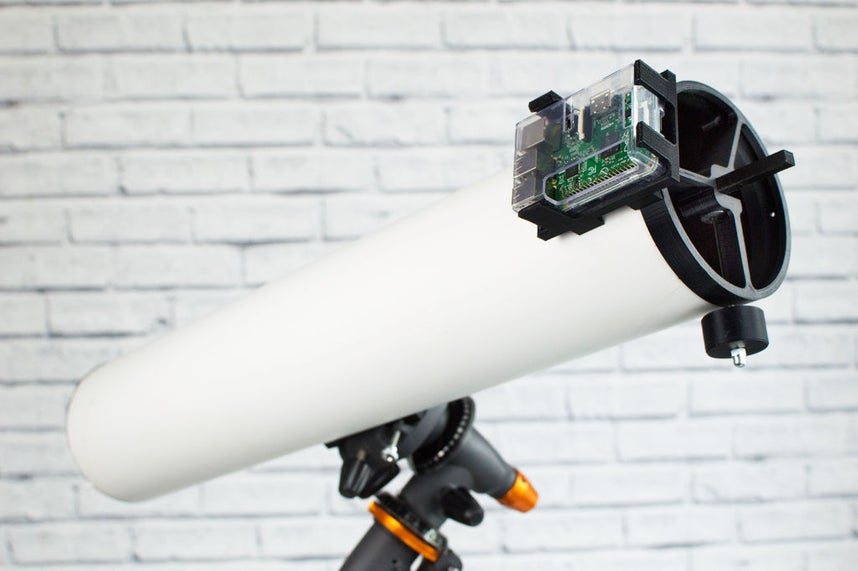 The maker Mika Yeap has created a new telescope project combining 3D printed parts, a telescope tube and the Raspberry Pi board. The PiKon is a 'astro-cam' telescope powered by a small Raspberry Pi mini PC capable of monitoring and capturing the night sky.
The design replaces the conventional eye-piece of a Newtonian reflecting telescope with a Raspberry Pi camera (lens removed). The telescope mirror is then used to focus an image on the Raspberry Pi camera sensor giving a field of view of about 1/4 degree.
Pictures are taken through the command line, so it's most convenient to choose to boot to the command line rather than the GUI Explains Yeap.
The PiKon telescope is now ready to use Pimoroni's Ninja Pibow Raspberry Pi case mounted onto the telescope tube.
The Raspberry Pi requires a power supply, USB keyboard, HDMI display and Mouse for graphic user interface (GUI). A VGA monitor may be used with a HDMI to VGA adaptor.

The Raspberry Pi is supplied with a pre-programmed micro-SD card. It is recommended that the Raspian operating system be installed. The PiKon image capture is performed using command lines, so it is more convenient to select boot up to command line during set up, than boot up to GUI.
Further information and STL files are available for download on Intructables.com.