3D Printed Open Source Automated Feeding System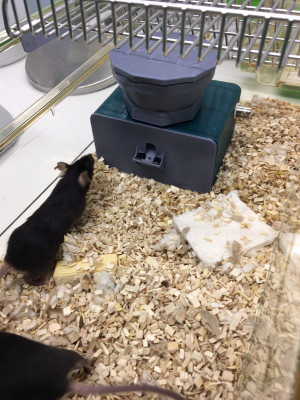 Katrina Nguyen is currently a Biomedical Engineering graduate student at Carnegie Mellon University studying motor neuroscience research.
Katrina designed an open source automated feeding system that aims to help researchers better monitor the daily intake of laboratory animals: it is called FED (Feeding Experimentation Device).
FED utilizes open-source software and hardware. The system dispenses a single food pellet into a food well where it is monitored by an infrared beam. When the mouse removes the pellet, FED logs the timestamp to a SD card and dispenses a new pellet into the well. Post-hoc analyses of pellet retrieval timestamps reveal high-resolution details about feeding behavior.
FED is capable of accurately measuring food intake, identifying discrete trends during light and dark-cycle feeding. Additionally, it's helpful for measuring increases in feeding resulting from optogenetic stimulation of agouti-related peptide neurons in the arcuate nucleus of the hypothalamus.

The system is entirely open source, which means it is freely available to other labs. Institution's that are interested in a FED system can print one of their own on a desktop 3D printer and can develop hardware and software based on their needs.