UsbSafe², the open programmable usb dongle to protect USB devices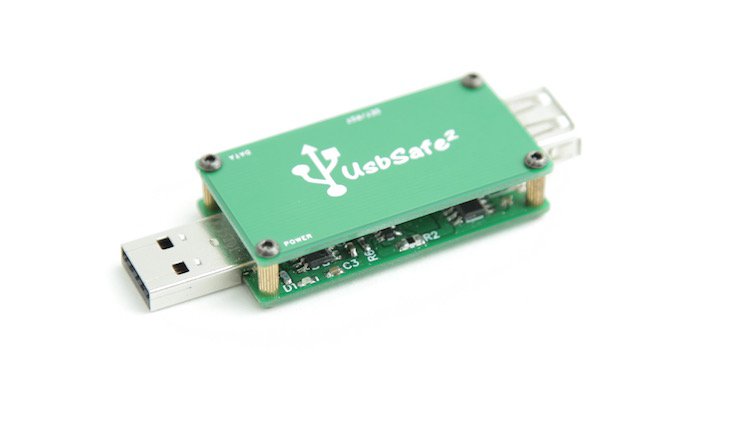 USB connections can transfer both information and power. UsbSafe² is a device for protecting USB-connected hardware from both excessive voltage, current and unauthorized data access. Unfortunately, the practice of "juice jacking" (accessing data from a device connected to a public charging station), has become all too common. UsbSafe² provides a unique combination of an anti-juice jacking mode with protection from faulty power sources. With UsbSafe² you'll feel safer knowing that your valuable gadgets are protected and secured, wherever you go and whatever you plug into!
USBSafe² provides two kinds of protection: data security and protection from excessive power.
You have complete control over the power going into your device. Over-voltage protection (OVP) ensures your hardware is never exposed to voltage higher than 6.5 V. Current protection is provided at five selectable levels, which you set with a simple button press. If a high voltage or high current condition is detected, UsbSafe² disables the power output to your device.
By enabling data integrity mode Juice Jacking will be impossible and your private data is protected.

Features & Specifications
Over-voltage protection. (activated at 6.5 V or over)
Current monitoring: five levels (user selectable): 0.5 A, 0.9 A, 1.5 A, 2.1 A, 2.4 A
Max. voltage drop: 200 mV @ 2.4 A
Max. input voltage: 15 V
Data integrity mode (set by user)
Power settings stored at power loss
USB 2.0 verified
Indoor use only
Size: 72 x 26 x 12 mm (2.8 x 1 x 0.47 in.)
Get one at a discounted rate: UsbSafe² | Crowd Supply