UP Core: full Windows10 and Android for the latest Raspberry Pi rival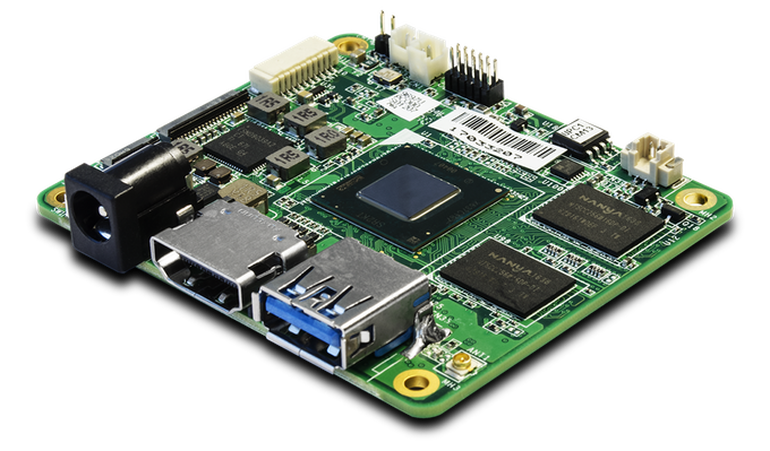 The UP Core is a single-board computer that will run a range of operating systems, including ubilinux (Debian), Ubuntu and Yocto, and seemingly offers better performance than the Raspberry Pi 3 Model B.
However, that additional power comes at a cost. While the Pi 3 sells for $35, the UP Core is on sale from €69/$89.
UP Core has a quad-core 1.8GHz Intel Atom x5-Z8350 processor, 1GB memory and 16GB eMMC storage. The computer is available with additional storage and up to 4GB of memory, but the 4GB model will cost €129 ($145).
The UP Core is not as straightforward to use as a computer out of the box as the Pi 3. While the UP Core has a HDMI and 5V power supply port, it only includes a single USB 3.0 port. Those who want to add more peripherals can either do so via Bluetooth or by adding ports to the 2 x USB 2.0 header. The board also supports 802.11n Wi-Fi.

For hardware hackers, the UP Core is more expandable than the Raspberry Pi 3, with 100 pins available for hooking up additional boards and other custom hardware, compared with the 40-pin header available on the Pi. The UP Core's high-speed expansion connector includes pins for UART, SPI, 2 x USB HSIC, PCI-Express, GPIO, Intel Sensors Hub, SDIO and 5V Power.
The makers of the UP Core say there is also a growing ecosystem of third-party hardware and software that works well with the board, allowing it to be used for industrial automation, vending, digital signage, IoT, home automation and robotics.
However, for the UP Core will be hard to compete with the range of software and community support that has grown up around the multi-million selling Pi since it launched five years ago.
The UP Core is fully funded on Kickstarter and expected to begin shipping to backers from August this year.