This Open Source Garbage Collector Has a…Mission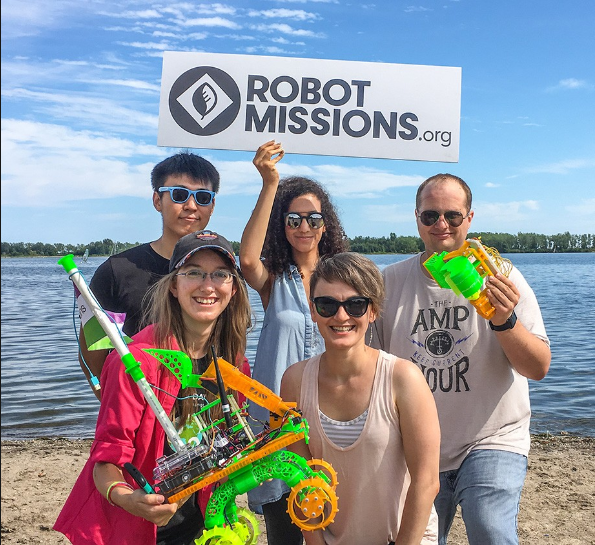 Plastic trash is a well-known problem, but the large, unsightly pieces of garbage aren't the biggest problem. The smaller, broken-down bits of plastic are much more insidious, because they're easily ingested by wildlife and not so easily cleaned up. It would be impossible for a human picking up trash by hand to get to every small bit of garbage, but perhaps not so impossible for robots, thought Kennedy, a builder of open source robots who goes by the name "robotgrrl."
Kennedy envisioned robot swarms, programmed to work together, descending upon beaches and scooping up trash. She founded Robot Missions, an organization that unites environmentalists with makers to develop beachcombing bots for cleanup endeavors.
Kennedy and Robot Missions developed a 3D printed, open-source robot that they named Bowie, with a design simple enough to be replicated relatively easily. The robot was designed specifically so that it could be 3D printed on a 10 cm build platform with a maximum print time of four hours per piece. Bowie consists of a horizontal platform with an attached arm, ending in a scoop similar to one you'd use to clean a cat's litter box.
The robot moves around on four sturdy wheels, capable of navigating uneven terrain, and scoops up small pieces of trash while sifting through sand. The trash is then dumped into a hopper mounted on the back.
It weighs between 3 and 5 kg and is designed to pick up trash 10-55 mm in size, such as bottle caps and cigarette butts.
While Bowie hasn't been 100% perfected yet, the field tests provided valuable insight, allowing the team to improve the electronics, software, and body of the robot. You can learn more about Robot Missions' project on their Hackaday page here.