TextToSpeech: Make It Simple to Add Speech to Any of Your Projects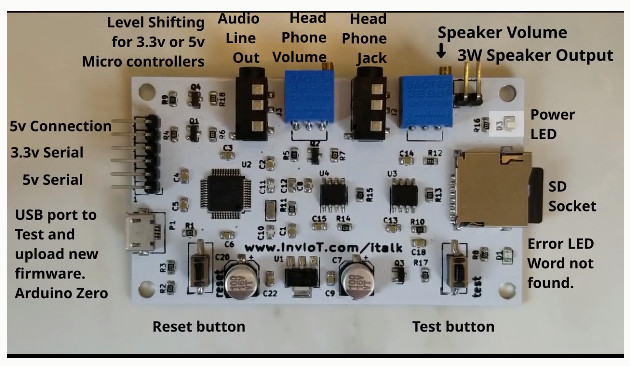 InvIoT is launching on Kickstarter a $24 and up TextToSpeech add-on board for the Raspberry Pi or Arduino that converts text to speech via a 3W amp.
You can add $12 for an SD card preloaded with the two English language packages containing pronunciations: a 7,000-word package from Wikipedia that uses a real human voice or a 20,000-word package from eSpeak with computer synthesized speech. These are both available for download onto a user supplied card, and you can also download 10,000-word French and German packages from eSpeak.
Probably the coolest feature of this device is that the interface is simply a serial connection. This enables dev board communication with only a Tx output, and there's a level shifter that lets it work with 5V (Arduino UNO, etc) or 3.3V (Arduino Zero, Raspberry Pi, etc.) as needed. It can even connect to your computer via USB, letting you command it to speak words via a serial terminal — such as the one built into the Arduino IDE.
The word synthesis is done with an SAMD21G18 micro controller, running with an Arduino Zero bootloader. The default serial speed is 9600, but the speed can be changed by editing the file 'setup.txt' found in the SD card. In this file you can also change the bit rate (default 22050), the bit resolution (default 8 bits), and the speed of the text (default  100).

All the pronunciation packages and other code will be open source upon shipment. In addition to the InvIoT's packages, you can create your own speech packages.