Spiderbase: the open source baseboard for Aries MX10 COM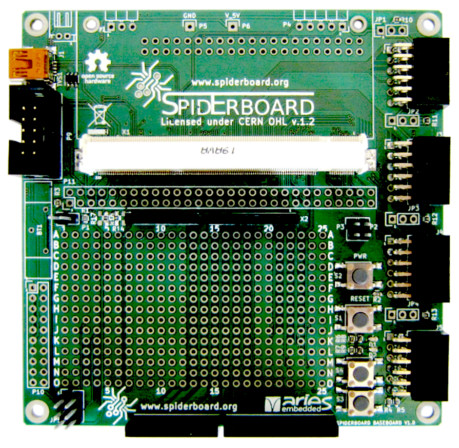 The SpiderBase carrier — but not the MX10 COM — is an open hardware design, with available BOM, Gerber, and KiCAD files licensed under CERN OHL v1.2. Later this year, or in 1Q 2018, the SpiderBase will also be available with an MX10-like COM called the "Spider SoM," which will offer the same open source hardware licensing as the carrier. All of the open source Spiderboard products will be supported at a Spiderboard.org community site.
The open source SpiderBase baseboard extends the MX10 module — and soon the Spider SoM — via the module's 230-pin MXM2 edge connector. Major features of the baseboard include an Arduino shield interface, 4x PMOD compatible headers (2.5V or 3.3V), and a large prototyping area.
The SpiderBase carrier board is equipped with a mini-USB B port, 2x LEDs, configuration jumpers, reset abd power buttons, and 2x user buttons. Other features include a CR2032 cell holder, a JST-2.0 lithium battery connector, and PICkit and Intel PSG (Altera) Blaster compatible programming interfaces. Like the MX10 module, the simple, 2-layer board supports 0 to 60°C temperatures.
About the MX10 COM, it is available with four flavors of MAX 10 FPGA, ranging from a 10M04DC to a 10M50DA. The choice of FPGA affects the level of I/O provided (see spec list below). The F256-packaged MAX 10 FPGA, which implements the bulk of the MX10 COM's functionality, provides instant-on functionality, integrated analog-to-digital converters (ADCs), and dual configuration flash.