SolidRun i.MX 8M Mini SoM Features Gyrfalcon Neural Accelerator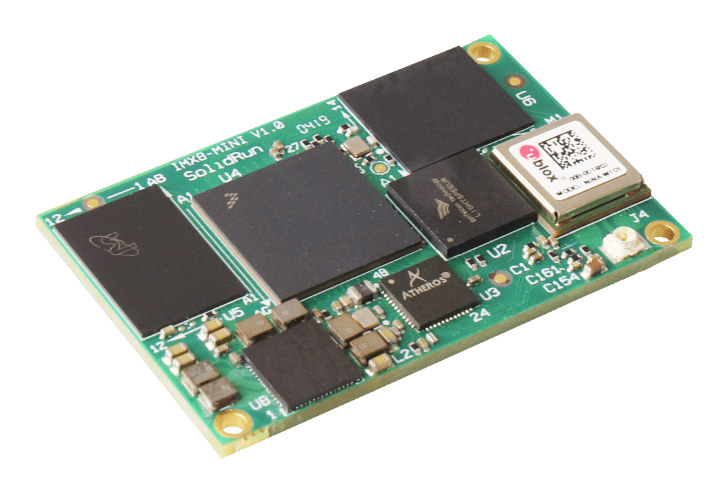 SolidRun announced an i.MX8M Mini based compute module aimed at a wide range of IoT and industrial applications including digital assistant solutions, autonomous cars, security camera systems, video and audio analytics, and digital signage.
The Linux- and Android-supported i.MX 8M Mini SOM has the same  footprint as last year's i.MX8M-based i.MX8 SOM and similarly works with the open-spec HummingBoard Pulse board that was announced with the i.MX8 SOM.
i.MX 8M Mini SOM combines all of the essential components necessary to quickly prototype powerful AI solutions into a compact 47mm x 30mm module, including processor and memory options, a GPU, Gyrfalcon's Lightspeeur® 2803S Neural Accelerator chip, optional flash storage, audio and video input and output and more.
You can purchase the i.MX 8M Mini SOM in Solo, Dual, or Quad models for one to four cores. They are otherwise identical except that the Solo ships with up to 3GB LPDDR4-3000 while the others can go to 4GB.

Specifications include:
SoC (one or the other)

NXP i.MX8M Mini S single core Arm Cortex-A53 processor up to 1.8 GHz, Arm Cortex-M4 core up to 400MHz, GC NanoUltra 3D GPU + GC320 2D GPU
NXP i.MX8M Mini D dual-core Arm Cortex-A53 processor up to 1.8 GHz, Arm Cortex-M4 core up to 400MHz, GC NanoUltra 3D GPU + GC320 2D GPU
NXP i.MX8M Mini Q quad-core Arm Cortex-A53 processor up to 1.8 GHz, Arm Cortex-M4 core up to 400MHz, GC NanoUltra 3D GPU + GC320 2D GPU

NPU – Gyrfalcon Technology Lightspeeur 2803Sartificial intelligence accelerator
System Memory

MX8M Mini Solo – Up to 3GB LPDDR4-3000
MX8M Mini Dual/Quad – Up to 4GB LPDDR4-3000

Storage – Optional eMMC flash, and optional QSPI-NOR flash
Video

Decode – 1080p60 VP9, VP8, HEVC/H.265 decoder, AVC/H.264
Encode – 1080p60 AVC/H.264 encoder, VP8 encoder

Networking

Atheros Gigabit Ethernet transceiver
Optional wireless module with 802.11b/g/n WiFi 4 and Bluetooth 4.2/5.0

3x Hirose DF40 board-to-board connectors exposing the following interfaces:

Storage – NOR Flash, SD/microSD, PCIe SSD
Display I/F – MIPI DSI up to 1080p60
Camera I/F – 1x 4-lane MIPI CSI-2
USB – 2x USB 2.0 interfaces
Serial – 2x RTS/CTS/Rx/Tx interfaces, and 1x Tx/Rx interface
Audio – 20 channels 32bits @ 384khz, DSD512, SPDIF TX&RX, 8x PDM DMIC channel
1x PCIe 2.0
2x I2C, 1x SPI, 4x PWM, 75 GPIO

Debugging – Test point header for JTAG
Misc – RTC
Power Supply – Main voltage: 5V, I/O voltage: 3.3V, SOM supply: 3.3V/1A
Dimensions – 47 x 30 mm
Temperature Range – Commercial & industrial