Raspberry Pi as an Audio/Media Center: the best Linux distros
Probably, the best use you could do with a Raspberry Pi would be turning it in a full-fledged media center. With some tuning, a Raspberry Pi can become indeed a device that audiophiles will love, or a tiny board that can empower you television to become a 2014-like smart TV. All you need is some Unix tools (or Win32DiskImager for Windows OSes) to flash your SD Card, and the need to connect your nerdiness to multimedia-related things. This is why in the last week I kept going around the web, spotting the best projects for a Raspberry Pi, to turn it in my personal media center of choice.
During the data gathering process, I did my best to isolate two projects about a full-featured media center distribution for a Raspberry Pi, and a couple of projects about turning a common Raspi in a nifty music player for your smart home. So, here are Raspbmc, OpenELEC, Volumio and PiMusicBox.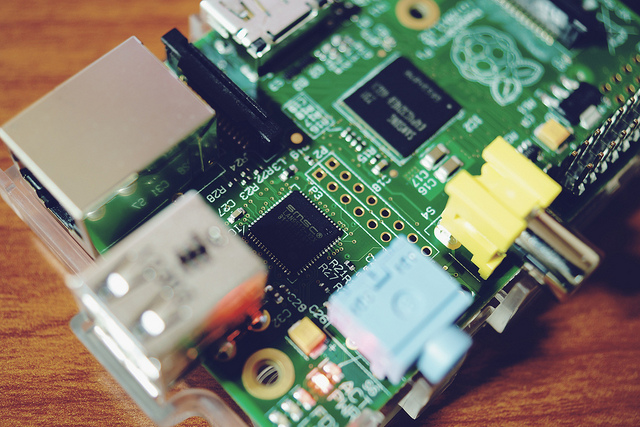 Raspbmc
Raspbmc is totally awesome. I hope you to wait for the complete review and for my cents about OpenELEC, but Raspbmc has astonished me in a way: this distro has indeed a dedicated installer, and once one starts using it, this Linux distribution shows all its potential. Raspbmc has an amazing plugin system that comes with XBMC, which can be accessed right from the first boot. Video and music streaming work out of the box, and if you have a DLNA-capable NAS or something similar, you will be able to stream your files directly from your favorite storage.
We can see how Raspbmc is powerful from its automatic upgrade tool: from this simple software we can update our system directly, without having to pull the SD card off, without having it connected to our machine. This is so useful, because while I have my meal, I can upgrade my smart TV having my PC doing other things such a render (I know: modern machines have para-multitasking, but when I must do one heavy-computational activity, I prefer that job to take all my CPU). And, ladies and gentlemen, it is totally automatic!

Having automatic upgrades and an available out of the box plugin system is only possible if you have a full-featured Linux operating system as your core. While other products are so much lightweight but less extensible because they are much more optimized, Raspbmc includes an heavy bunch of features to please the user and assemble a fantastic user experience for a media center, the user interface and the processes will result slow sometimes, because all of this stuff has to confront itself with a complicated system located underneath.
OpenELEC
OpenELEC is the opposite of Raspbmc for the most of the time you use it. While Raspbmc cuddles you between package management, a complete plugin system and all the tools to maintain a state-of-the-art operating system updated with the latest features, OpenELEC is the Sparta of the media center OSes. The image to flash on your SD card is 100 MB total, and the resulting operating system is so monolithic. Booting your Raspberry Pi (after a setup phase that is not automatic) you will notice a substantial difference between OpenELEC and Raspbmc: OpenELEC is much more optimized, so you can see how the user interface is much more lightweight, and how much system operations are faster than a complete (similar to general purpose) system like Raspbmc.
Even if we can have a plugin system working out of the box, surely we have less room for customizations: OpenELEC can be used to run a streamlined XBMC instance only, and if you want to add another executable or run another software combined with XBMC, clearly you can't. Video and audio streaming are working out of the box too, and if you want to adopt an XBMC-only media center, I'm sure this remains the best choice for pretty much any user. Well, this if you can afford to open a terminal and run an SD creation script, that is not so easy.
And even if you manage to open a terminal and create your SD card (like a command line Jedi! Yeah!), you'll need something. Who cares about customizations, you'd say? Hah, you fool: if you need to add drivers for a precise file type, you'll have to completely rebuild your operating system. Yet, you will have no update manager at all, and updating your system will mean pulling SD card and running the script as above, again. So nasty.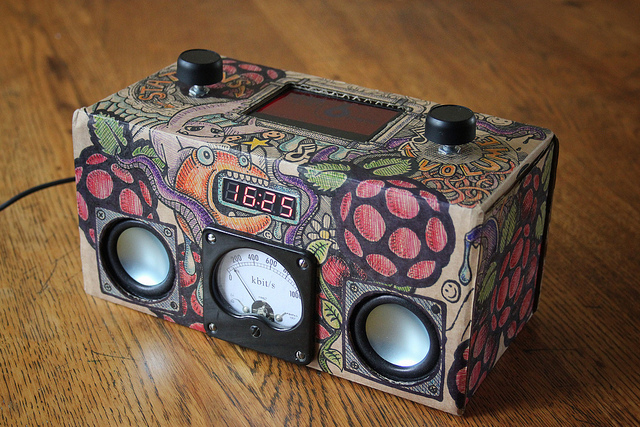 Volumio
A great Linux distribution for your Raspberry Pi if you are an audiophile is Volumio. This project aims indeed to create an operating system for various boards (like Raspberry Pi and others) that audiophiles like me can use to play their favorite music with a neat web interface and a storage system. The setup phase is done in 10 minutes: just download the image for your kind of board and flash it with dd if you're on Linux, or open Win32DiskImager if you are using Windows. Once you completed the installation of Volumio on the SD card, you must turn on the board and do the tricky part.
If you are a lucky man and your network works as expected, pointing your browser to http://volumio.local/ will result in showing you a nice WebUI. Instead, you will have to try the hard way: you'll have to find the Volumio board's IP address on your own, using some LAN scanning software or similar things; once you do this, you'll manage to go through the web interface (such pretty, I have to say) and configure your Raspberry Pi to play your content. This content can be in your PC, or on your gigazillion-capable NAS, it doesn't matter: Volumio developers just configured it all to work out of the box. Nifty, huh?
The only thing Volumio is not able to do, even if the web radio support is just excellent, is to connect to Spotify or other (social?) music streaming sources to play music from your personal cloud. You'll need a storage or a PC with much space, or you will want to change your operating system for somewhat much Internet-oriented like PiMusicBox. Anyway, Volumio remains the best choice if you want an Internet enabled audio center with a beautiful user interface that can be controlled from every device of your own.
PiMusicBox
PiMusicBox, substantially, is a Linux distribution to make your Raspberry Pi your perfect Internet-enabled stereo system, with support for Spotify, Google Music, Grooveshark, and so on. The greatest part is that obviously a Raspberry Pi with this operating system does not require a storage to manage and reproduce music: it's all on your cloud, wherever it is. After the setup phase, you need to discover the IP of your Raspi, and then connecting to a web interface (ah, another time) you can configure anyone of your cloud services.
This is more valuable than Volumio if you don't want to bother with NASes and similar storage; just plug your Raspberry to the AC power, plug the audio cable, the ethernet cable, and start playing music from your favorite Spotify playlist. This (cloud music support) is possible thanks to an MPD fork called mopidy, that takes care of all of this stuff.
Unsatisfied? Let us know. Or hack your Raspi in a better way. ;)
Photos courtesy of limpfish and Vincent Lee