Pedalino: Open Source Wireless MIDI Foot Controller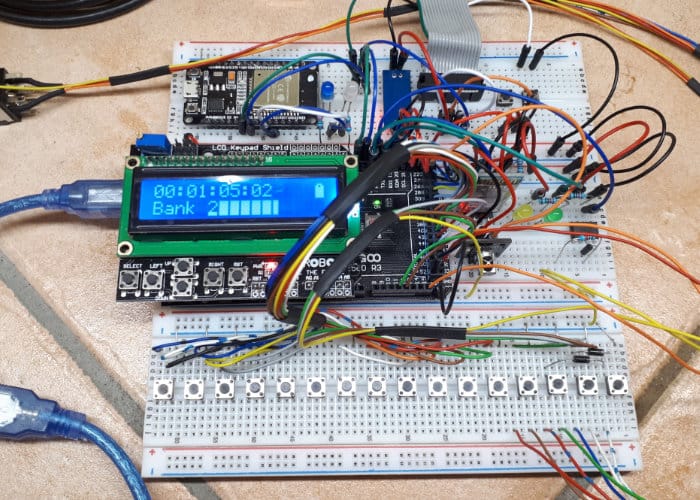 Pedalino is a new open source wireless MIDI controller which supports both iOS and Android operating system's and offers a fully featured MIDI controller with three user profiles, and is capable of controlling up to 48 foot switches. That's an impressive amount of kit for such a small device; usually you'd have to spend hundreds or even thousands of dollars for a simple MIDI controller, and the Pedalino does everything with very cheap hardware.
It comes complete with its own companion application currently under development and created using Blynk. The final version of the companion application is hoped to be released before 2019.
Features of the Pedalino include :
– Support for digital foot switches (momentary or latch), analog expression pedals and jog wheels (rotary encoders)
– 10 banks of 16 controllers each
– 3 user configuration profiles
– Each port can connect 1 expression pedal or up to 3 foot switches for a maximum of 48 foot switches.
– MIDI output via USB MIDI, Bluetooth, classic MIDI OUT connector, AppleMIDI (also known as RTP-MIDI) or ipMIDI via Wi-Fi
– Send the following MIDI events: Program Change, Control Code, Note On/Off or Pitch Bend
– MIDI channel, MIDI note, MIDI control code, MIDI program change can be configured by each pedal and by each bank
– Switch debouncing and analog noise suppression without decreasing responsiveness
– Invert polarity via software
– Individual automatic calibration of expression pedals. Manual fine tuning is not usually requested.
– Transform a linear expression pedal into log expression pedal and vice versa
– Responsive and mobile-first configuration web interface (http://pedalino.local)
– Configuration via IR remote control
– Change bank via IR remote control
– Simulate footswitch push via IR remote control
– Use any spare IR remote control

Specifications of the Pedalino include :
– Plug-and-play with any MIDI-compatible app on iOS 8 and above as well as OS X Yosemite and above.
– High customizable using iOS or Android app
– 4 MIDI interface (USB, Bluetooth, WiFi, legacy DIN MIDI IN and MIDI OUT connectors)
– No extra drivers to connect Windows, macOS, iOS (iPad/iPhone) and Android
– USB MIDI class-compliant device
– Bluetooth LE MIDI (iOS and macOS compatible)
– Network MIDI (aka AppleMIDI or RTP-MIDI)
– ipMIDI
– Open Sound Control (OSC)
– IEEE 802.11 b/g/n Wi-Fi 2.4 GHZ with WPA/WPA2 authentication
– Bluetooth Low Energy 4.0
– MIDI routing from/to any interface (USB, Bluetooth, WiFi, legacy)
– MIDI clock master and slave
– MIDI Time Code (MTC) master and slave
– OSC to MIDI and vicecersa
– Any number of pedals of any type in any order
– Auto-sensing footswitches and expression pedals
– Modular assembly of easy to find hardware and re-use of open source software libraries
Jump over to the GitHub website or watch the video below for further information.