Open Source "Game Boy" Runs Linux and Arduino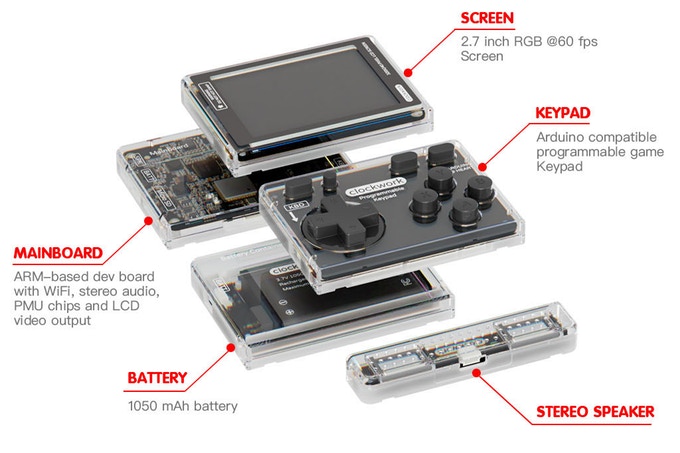 Clockwork has surpassed its Kickstarter funding goal for a handheld GameShell device that is billed as "the world's first modular, portable game console with a GNU/Linux embedded operating system."
The GameShell offers a variety of retro console emulators, and can play thousands of classic games from Atari, GB, GBA, NES, SNES, and many of history's greatest consoles. ClockWork also says that every game published on it will be free, open-source and modifiable.
The hackable GameShell ships with a microSD card with its Linux-based Clockwork OS distribution, as well as Cave Story and DOOM2. Debian, Ubuntu, and Raspbian are also supported.

GameShell consists of five modules, including a homegrown Clockwork Pi mainboard and a programmable Keypad board with an Arduino compatible ATmega168p MCU with 30-pin Arduino shield connector.
The modular device can also be used for DIY hacking. It's billed as being open source hardware, with support for 3D printing custom shells in various colors.
The Clockwork Pi board is built around a quad-core, Cortex-A7 Allwinner R16 with a Mali-400 MP2 GPU. The Pi board integrates 512MB DDR3, a microSD slot for up to 32GB, and a micro-USB port with charging support.
There's also a 3.5mm phone jack, LCD and stereo audio outputs, a reset key, and power connector. Other features include a 14-pin expansion connector with UART, I2C, SPI, and GPIO interfaces. The Arduino driven Keypad board has its own micro-USB for connecting to a desktop computer for programming.