MCC 134 Thermocouple Measurement HAT for Raspberry Pi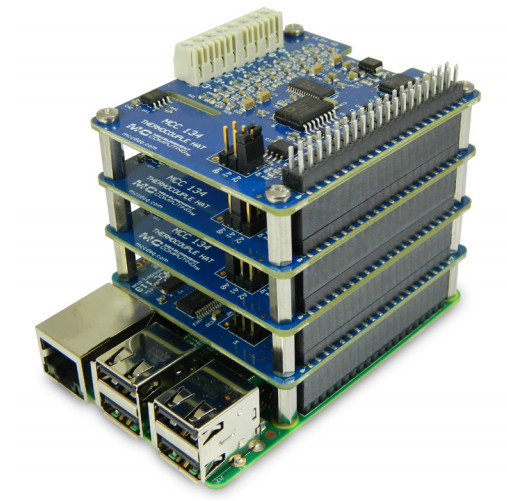 The MCC 134 Thermocouple Measurement HAT provides four thermocouple inputs for adding temperature measurement capability to Raspberry Pi based systems (Raspberry Pi 3 3B+, 3, 2, and A+ models.).
The MCC 134 also offers open thermocouple detection so users can monitor for broken or disconnected thermocouples. Each channel type is selectable on a per-channel basis. The board provides a HAT-compatible 40-pin GPIO for easy installation. Other features include a 24-bit A/D converter, 3x cold-junction compensation (CJC) sensors, and linearization features.
You can use up to 8x MCC DAQ HATs per a single Raspberry Pi and all these HATs are controlled by the same open source Raspbian Linux stack with easy-to-use C/C++ and Python open source libraries.
The MCC 134 expands the Measurement Computing Corp HATs family flanking the MCC 118 voltage measurement DAQ HAT with eight ±10 V inputs and sample rates up to 100 kS/s and the MCC 152 voltage output and digital I/O HAT with dual 0-5 V analog outputs at up to 5 kS/s and 8x configurable DIO.