Marty, the nice educational robot can now feature a Raspberry Pi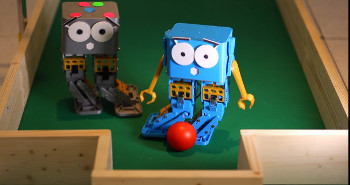 Robotical's hackable, Cortex-M4 based "Marty" educational robot has flexible legs, and can be upgraded with an onboard Raspberry Pi.
A startup called Robotical is seeking funds on Indiegogo for a 3D printable, mostly open source, walking robot called Marty. The WiFi-controlled bipedal bot has a 180MHz Cortex-M4 MCU, and is primarily designed to teach kids about programming using Scratch. It can also be programmed with Python or C++, and you can upgrade it with a Linux-driven Raspberry Pi or other small SBC.
Robotical extended the first round of its flexible funded Indiegogo campaign, but has still only achieved 60 percent of its ambitious 50,000-Pound goal. Robotical says it plans to push ahead with Marty no matter what the final funding total. In addition to the above packages, there are volume discounts, such as 400 Pounds for five robots. Shipments are due in Jan. 2017.
You can directly control Marty via WiFi and a mobile app. Alternatively, you can program the robot to follow certain paths, use different leg and arm motions, and raise or lower its eyebrows to show emotion. ROS support is also available.
In addition to the Cortex-M4 chip and WiFi radio, the robot is equipped with an accelerometer, a beeper, and a set of AA batteries, which can be swapped out for longer lasting LiPo or Li-Ion batteries. There are also ports for connecting other sensors, motors, and circuit boards.

The robot has enough room and power for a Raspberry Pi. This would let you add a camera, supporting the vision processing functionality needed to track a ball or detect faces. The design is also said to support integration of other small boards like an Arduino, or other Linux-driven SBCs like the Raspberry Pi Zero or BeagleBone.
Source: Hackable, educational walking bot can add a Raspberry Pi