Maker Faire Rome – The European Edition 4.0 is coming!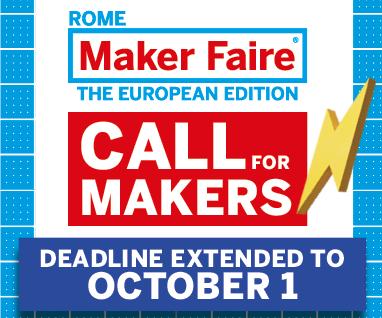 Maker Faire Rome is a great celebration of invention, open to all forms of applied creativity, from the most serious to the most imaginative projects, from new technologies to traditional arts and crafts.
What will you bring to Maker Faire Rome this year in order to shock visitors?
There's still time to take part of the biggest European event for makers: the Call For Makers deadline has been extended to October 1st!
What are we looking for:

Inventors and innovators: innovative products, prototypes, patents, research projects, startups, crowdfunding. When makers want to meet the market, they must come to Maker Faire Rome! Every year we build the future together.
Innovative craftsmen: tools and techniques for digital fabrication, from 3D printing to CNC machines, from creative woodworking and metalworking to digital techniques for fashionand design, but also high quality craft products and any process involving hand-making.
Electronics: from microcontrollers to retrocomputing, from sensors to Internet of Things, from circuit bending to hacking, from machine learning to open hardware.
Food and agriculture: innovation in food (including machines, robotics, techniques for preparation and conservation) and agriculture (agro-tech, rural innovation, automation, monitoring).
Robotics and machines: from wheel robots to animatronics, from humanoids to Goldberg machines, from artificial intelligence to industrial automation.
Health and quality of life: projects for improving life of disabled people, biomedical products, accessories for sport, projects about human body.
Art, interaction and games: projects using light, darkness, sound, music; robotic art, creative coding, musical instruments, virtual reality and interactive installations.
Science, chemistry, engineering: science exhibits and experiments, laboratories and shows for kids and adults.
Energy, sustainability, recycling: from renewables to upcycling, from recycling of materials to repair culture, from water and environment, from green architecture and smart mobility.
Large-scale projects: innovative or playful, static or moving, sculptural or technologic, giant projets are always the great attraction that visitors always remember.
Projects about this year's topic: future belongs to everyone, innovation (when open, inclusive, bottom-up) is the only way for a better world.
…and then drones, bicycles, projects for cultural heritage, photography, security and any other topic not listed here.

You can participate in Maker Faire even if you don't have an innovative project but you have something to show and you're willing to teach and share your skills and your experience: we're all makers and everybody want to learn from makers!
For more detailed information, you can visit the official Maker Faire Rome website .