Jetson Nano is a Powerful Raspberry Pi-Like AI Computer from Nvidia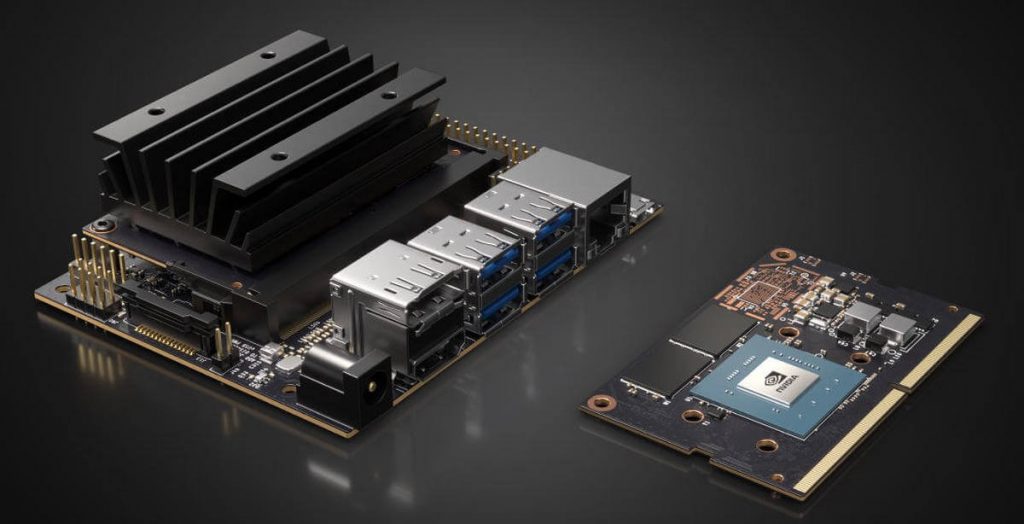 Nvidia released their next generation of small but powerful modules for embedded AI. It's the Nvidia Jetson Nano, and it's smaller, cheaper, and more maker-friendly than anything they've put out before. For $99 the Jetson Nano Developer Kit is designed to give everyone from hobbyists to programmers a chance to play with deep learning and neural networks for an affordable price, so it opens the way to a Raspberry Pi-like revolution — this time for machine learning.
Like the Raspberry Pi, the Jetson Nano fits a full suite of ports and 40 GPIO pins on a relatively small motherboard that you can juice with a standard 2.5-amp micro USB power adapter.
The Jetson Nano is powered by a 1.4-GHz quad-core ARM A57 CPU, 128-core Nvidia Maxwell GPU and 4 GB of RAM. It has four USB type-A ports, including one that is USB 3.0, both HDMI and DisplayPort out for video and a gigabit Ethernet connector. There's an onboard camera slot, though you can also connect cameras via USB.
The video capabilities of the Jetson Nano are impressive. The idea isn't that you can watch 4K video, but rather that the unit can process multiple video streams (think about drones with multiple cameras) for object detection, tracking, and obstacle avoidance. While 4K 60fps sounds nice, the Jetson Nano is capable of decoding eight video/camera feeds at Full HD at 30 frames per second! Once decoded the streams can be processed simultaneously by the machine learning algorithms for object tracking etc.
Jetson Nano Developer Kit specs:

CPU 64-bit Quad-core ARM A57 @ 1.43GHz
GPU 128-core NVIDIA Maxwell @ 921MHz
Memory 4GB 64-bit LPDDR4 @ 1600MHz | 25.6 GB/s
Video Encoder 4Kp30 | (4x) 1080p30 | (2x) 1080p60
Video Decoder 4Kp60 | (2x) 4Kp30 | (8x) 1080p30 | (4x) 1080p60
USB 4x USB 3.0 A (Host) | USB 2.0 Micro B (Device)
Camera MIPI CSI-2 x2 (15-position Flex Connector)
Display HDMI | DisplayPort
Networking Gigabit Ethernet (RJ45)
Wireless M.2 Key-E with PCIe x1
Storage MicroSD card (16GB UHS-1 recommended minimum)
Other I/O (3x) I2C | (2x) SPI | UART | I2S | GPIOs