IoTTLY – the first IoT Open Source Distribution for Makers and the importance of going open!
By
Staff
on September 29, 2015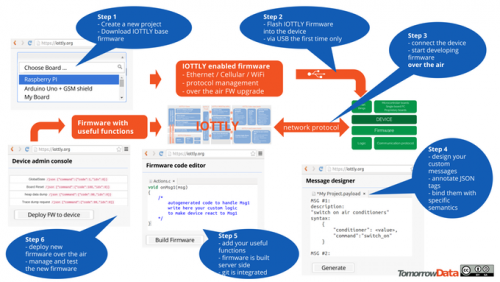 Recently we have presented the important project launched by our friends Stefano Terna and Daniele Grieco: IoTTLY, an open source distro dedicated to IoT for Makers.
They have launched a Kickstarter campaign too but it didn't go according our expectations. Anyway, Stefano and Daniele don't give in and are going on with the project.
In the next days, they are going to:
publish the source code on GitHub  and release a cloud version of IoTTLy available for everyone
setup a community support platform for whom will like to use and develop with IoTTLY giving also the chance to put your project on the repository, sharing it with the whole community
Go on guys, we'll follow you on this project and publish further updates!

If you are not convinced yet about the advantages of going open source for IoT, here are some relevant considerations from the founders:
IOTTLY, a project to support IoT Openness

As we all know, the Internet changed everything by connecting computers at first, and then by connecting people, thus affecting the way we live and how we do business. Now the time has come to connect with the infinite number of "things" that make up our daily lives. And this change is going to impact our world in a much more dramatic way.

We can say, "IoT" is all about enabling individuals and businesses companies to control, manage, and communicate with remote objects in a creative and productive way, whether it be for profit or just for fun.

Right now "IoT Platform" is a label associated with all kinds of systems, some of which have been sponsored by big Internet players such as Google, Facebook, Oracle, and Cisco: from closed or proprietary systems, industrial systems, systems entirely operated by third parties, or systems that require a set of highly specialized technical skills.

If the Internet of Things is going to allow our fridge to be connected, then it should involve ways to remotely upgrade it, enhance its energy efficiency, and repair it. It should generate much more than a simple alert telling you when the milk is expired, accompanied by supermarket ads.

Because of the disruptive nature of this technology, it is essential that we work towards making it accessible to the largest possible number of people, with the help of tools that share the following qualities: interoperability, usability, ethical transparency and environmental safety.

We define this community commitment the "IoT Openness".

The IOTTLY project is being developed with the aim of contributing to the IoT Openness, with two significant steps:

By creating an IoT platform designed as an Open Source Software Distribution (Distro) that supports the creation and development of Internet of Things projects, making it easy to connect, manage and program boards like Arduino, Raspberry Pi, Udoo via Internet.

By supporting a community that is going to collaborate to further develop this Distro, and share IOT projects which can be for professional prototyping or for DIY.

IOTTLY will be fully Open Source, enabling itself to address the main issues arising in the IoT scenario: interoperability, security and privacy. A true interoperability can be achieved only if the building blocks can be shared by producers and developers among the different solutions, platforms and devices. In turn, such a wide spreading of the same code base will increase security, by enabling cross testing processes, performed by multiple independent parties in different application contexts. Moreover publishing the code that handles the data will result in a much stronger answer to the privacy demand than just asking the user to accept formal policies.

IOTTLY will enable professionals, educators and makers to implement IoT projects in the same way that distributions like Ubuntu have made it easy for millions of people to use Linux. With the value provided by a distribution approach, it will be easier for both technical experts and average users  to focus on the core functional or creative aspects of their IoT projects, while entrusting IOTTLY with the integration and optimization aspects of existing open tools and new packages.

The realization of complex IoT projects through just a few clicks requires both a deep understanding of the user's needs and also the kind of technical competence that enables objects to communicate efficiently with each other and with the end user. Therefore, a wide base of technicians and makers must have the opportunity to collaborate, support and test the project during the development phase. The same community will then be able to promote new applications following the established practices of the world of digital creations. The future of this technology will depend on a growing number of custom real-life applications, shared among do-it-yourselfers and the public in general.

The founders aim is to establish  a seamless educational and professional community around IOTTLY that would grow according to the functional challenges posed by IoT technologies.

More details about this fascinating project, as well as additional technical information, can be found on the Kickstarter campaign's page (http://kck.st/1Pze4IG) and on tomorrowdata.io