Interview to Dale Dougherty: Founder & CEO MAKE Magazine and Maker Faire
How you can read from his Twitter profile, Dale Dougherty is the Founder of MAKE Magazine and creator of Maker Faire.
I had the opportunity to interview him about the makers, about Arduino and Raspberry Pi and obviously about the open-source world.

Boris Landoni – We often hear the word "Maker", but what features should have a person be called a Maker?
Dale Dougherty – A maker develops a mindset that distinguishes him or her from others, particularly from consumers. They see themselves as capable of solving problems, learning new skills and contributing to society in beneficial ways. A maker is persistent and resilient, willing to try and fail but ultimately succeed on terms he or she defines.
Defining what success uis rather than having it defined by others is what distinguishes makers.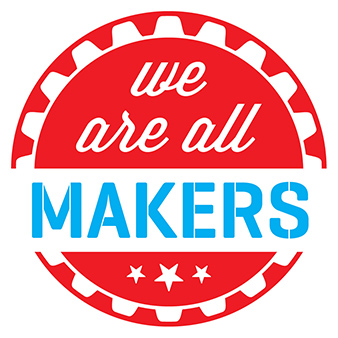 Boris Landoni – What is the difference between a Maker and a hobbyist?
Dale Dougherty – A maker can be a hobbyist and many are. By hobbyist, I mean "amateur," someone who has a love of making and undertakes projects for a variety of reasons. They enjoy the work, the discovery, the exploration, the challenge. Makers can also develop skills that can be applied professionally in a lot of jobs and they might be paid for the work they do. Makers may be both professionals and amateurs.
Boris Landoni – What has been the evolution of the Maker and how the tools at his disposal have changed?
Dale Dougherty – Many new tools for digital fabrication, electronics and biohacking have emerged over the last ten years or so. They are a combination of hardware and software tools that enable more people to make things more easily, which means that the process of making and the costs of making are more accessible for more people.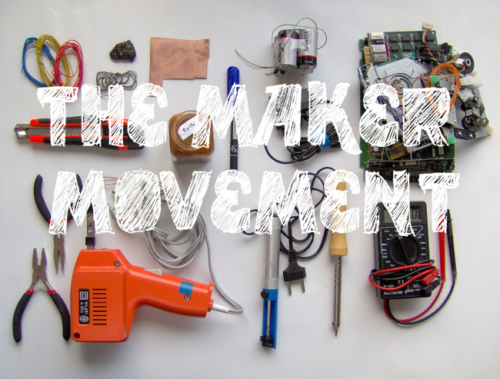 Boris Landoni – What is the Maker Movement? What type of people belongs to it?
Dale Dougherty – It is a self-organizing movement of people who choose making as something they like to do. It consists of learning to use technology, devising interesting applications for new tools and technology and generally figuring out how to improve our lives and our community through our own actions, both individually and in collaboration with others.
Boris Landoni – The development of boards such as Arduino and Raspberry Pi, has influenced the Maker's world?
Dale Dougherty – Of course. They provide entry-level platforms that are affordable and capable for all kinds of applications, even professional applications.
Because the community has access to the same tools, they can share their expertise and help each other.
Boris Landoni – The Maker in some case creates its projects for passion, you think it's possible to turn this work into something economically sustainable? Platforms like Kickstarter or Indiegogo can help them?
Dale Dougherty – Yes, we see it. Certainly Limor Fried, the founder and CEO of Adafruit , is a great example of someone who started with a desire to make things and then turned it into a successful business. We can look at projects like OpenROV and Noimiku that raised money on Kickstarter to fund development and production of a product and then turned it into a business.
What's fascinating to me is that maker might be called accidental entrepreneurs. They did not start out to make a business; they started with a project but it became a business for them. Just as they had to figure out the process for making something, they have to learn how to make a business.
Boris Landoni – Maker and open-source. What do you think of this combination?
Dale Dougherty – I mentioned Limor Fried already. She's one of the leaders of Open Source Hardware. Arduino was a significant open source hardware project and perhaps the first one to really stand out. The idea is that makers can share the design files for a product so that others are free to replicate it. It is like sharing code for open source software. Open source allows others to build on the work of others and it has help to create value in the community.
Makers don't have to choose to open source their project but many do. It can be a viable business strategy to help develop a community of contributors for a project or product. My belief is that the real business asset is the community you serve, not the ownership of the code.
​
Boris Landoni – What do you think of Makerspace and FabLab? How do you see their evolution (if there will be an evolution)?
Dale Dougherty – Makerspaces and Fab Labs are important facilities that people can have shared access to tools and materials. However, while they might have the same name, they can have different goals. Some in libraries and schools serve students and youth. Others are in universities and even in businesses. Of course, a good many are member-based and serve a local community. One aspect of the maker movement is that it is inherently local — you need to be with people and tools in a physical space.
I expect that we will see more microfactories modeled after makerspaces but used more for small-batch manufacturing. This might lead to the return of manufacturing businesses in cities around the world.
Boris Landoni – STEM and Making in Education is Growing. Do you think the Maker Movement can affect schools?
Dale Dougherty – I am excited to see how the maker movement is having impact in education . Making *is* learning — hands-on, experiential and self-directed. That's very different from the way most schools are organized today. It's more about *how* you learn and *what you can do* by learning new skills than it is about *what* you learn. I am most happy with how making is being brought into schools by teachers and students. They are taking the initiative.
My hope is that maker education is a means to transform education by offering a new way to engage students as learners. It's not about adding making to the curriculum; it is about changing school so that it focuses on the best ways that students learn. The goal should not be to prepare students for STEM careers but instead to help them become good learners, confident and unafraid to dive into complex subjects and develop projects that actually contribute value to the community and society around them.
Boris Landoni – What causes the success of a magazine like Make and an event like Maker Faire?
Dale Dougherty – I hope it is because it speaks to people on a personal level about who they are and what they can become. All of us are makers but we may not think of ourselves in that light.
Boris Landoni – In your opinion why people have this "need", or at least find pleasure, to share his work with others?
Dale Dougherty – One is that helps us connect to other people and we can then benefit from their feedback. We are looking for ways to interact in meaningful ways with each other, and when you engage in a hobby or a passion project, you express yourself in a unique way, and often you meet people who share your interests and enthusiasm. Seeing makers connect with each other enthusiastically is one of the great joys of what I do.
Boris Landoni – The title of your book "Free to Make: How the Maker Movement is Changing Our Schools, Our Jobs, and Our Minds" clearly states that the Maker Movement is changing our world. How is it possible? How long will it take?
Dale Dougherty – Making changes us as people and in doing so we can change the world around us. It might be in small ways like fixing a broken gadget or customizing something we own to make it ours. We are modifying the world to your own ideas and tastes. We can also use the skills we develop as makers to help others become makers and to help others solve problems.
Boris Landoni – Who are the most influential people (besides you) in Makers' world?
Dale Dougherty – I don't think I can list everybody but I will call out those people around the world who organize makerspaces, who produce Maker Faires, who develop new tools and technologies for makers and also those forward-looking educators who are introducing students to the joys of making.
Boris Landoni – When you have presented the first Maker Faire, did you expect this success?
Dale Dougherty – I didn't know but I thought it was an experiment worth trying.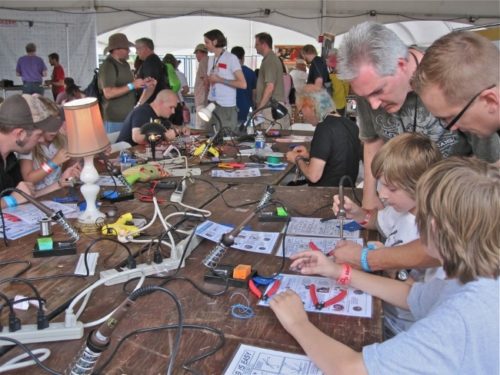 Boris Landoni – The Maker Faire is a big party for young, elderly and especially families, but big companies, like Google, Intel, Nvidia, have approached this world. How do you explain this interest?
Dale Dougherty – As I said above, making is something that defines us as human beings so it connects us to something in ourselves and in others that is wonderful, creating and inspiring. It makes us feel good about the world we live in — and we need more of that.
Boris Landoni – Beyond Maker Faire "official" there are several Mini Maker Faire. What is the difference, beyond the size?
Dale Dougherty – It is mainly size and scope. We will have over 200 Maker Faires in 40 countries around the world this year.
Boris Landoni – What are the next targets of the Maker Faire? Are new locations planned?
Dale Dougherty – I just spent three weeks in China, Singapore and Japan, visiting three vibrant Maker Faires in Xi'an, Singapore and Tokyo.
We try to help new Faires get started and help the existing Faires grow.
Boris Landoni – How do you see the future of the Maker and their movement?
Dale Dougherty – That should be the subject of another article.
Boris Landoni – Many thanks for your time.