How to Make a Raspberry Pi Powered Etch-a-Sketch System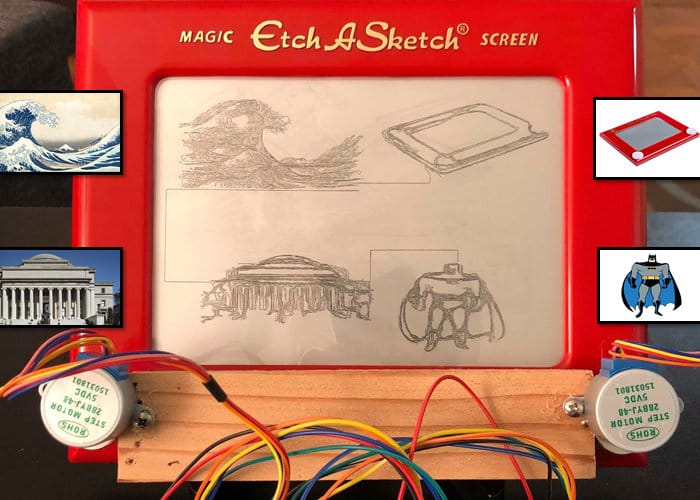 The Etch-A-Sketch was released by The Ohio Art Company in 1960.
The popularity of the device is sort of interesting because it has lots of annoying problems:

knobs only move the cursor up/down/left/right. Diagonals and curves require a steady precision that most children 3+ simply don't have.
you can't draw two objects that are not connected.
No ability to undo small mistakes. If you want to undo something you'll have to redo your whole masterpiece.
This Raspberry Pi powered Etch-a-Sketch is a sort of high definition game: it is capable of drawing almost anything you can think of and upload. It allows the retro drawing device to draw images sent to the pine mini PC.
The required hardware is:
Raspberry Pi
Etch a Sketch
1x Piece of Wood
2x Stepper Motor
2x Shaft Coupler
8x Jumper Cables
As the maker writes on its website, his plan is to write a program that uses some motors to draw nice pictures on an etch-a-sketch.

For the reasons above, recreating pictures by hand is tedious and extremely difficult. My hope was to get to a point where my program could draw things better than I could. I've always wanted to learn more about how to use hardware with python so I was pretty excited to start this one.