hgTerm: Attractive DIY Raspberry Pi Powered Mini Laptop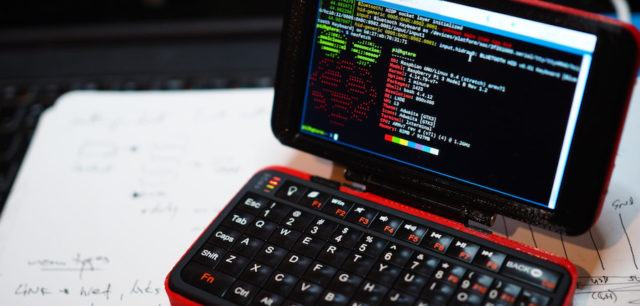 hgTerm is a pocket-sized computer with a 4 inch touchscreen display, a 270 degree hinge that lets you flip it around backward, a thumb keyboard, and a 3D printed case. The whole thing runs on battery power for hours at a time, and the brains of the operation is a Raspberry Pi 3.
Even though using a Raspberry Pi Zero would have saved a lot of space, the performance would have taken a hit. So the developer Igor Brkić decided to go with the 3B+ to increase performance at the expense of higher power usage.
Igor has posted a series of videos showing the hgTerm being used for activities ranging from Arduino programming to running PlayStation games.
hgTerm mini laptop features include:

– long battery life (at least 5-6 hours)
– reasonable performance
– power management (shutdown, battery charging, battery monitoring)
– high resolution touch screen
– hardware keyboard
– GPIOs, analog inputs, serial port
– "stand mode" where display can be opened up to 270°
– SD card reader (TODO)
– proper sound (TODO)
A ton of small single board computers have joined the market since the Raspberry Pi was launched in 2012. For sure it's one of the most impressive DIY mini PCs I've seen to date.