GPS, Glonass and Advanced Digital Audio Codec for the Sony Spresense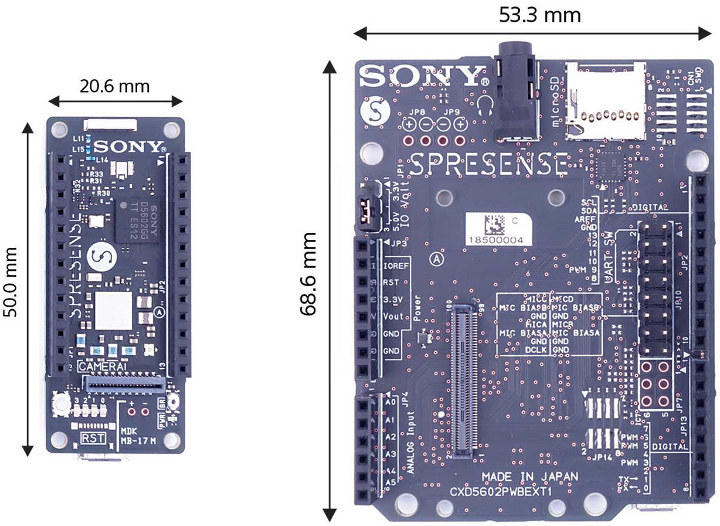 Sony recently renamed its "old" Sony Spritzer, an Arduino compatible with a Sony hexa-core Arm Cortex-M4F micro-controller, a built-in GNSS receiver, and an audio codec.
They made some design modifications and called the "new" board Spresense. Sony is ready to launch the main board for ~$50, and the extension board for an extra $32 on July 31, 2018.
Sony released the specification of the development board with Arduino Uno connectors and support in Arduino IDE. Software can be developed using the Arduino IDE or the Eclipse IDE, and the board allows for the development of systems for diverse applications, including drones, smart speakers, sensing cameras and other IoT devices.
Sony SPRESENSE main board:

MCU – Sony CXD5602 ARM Cortex-M4F ×6 micro-controller clocked at up to 156 MHz with 1.5MB SRAM
Storage – 8MB Flash Memory
GNSS – GPS & GLONASS
Audio – 3.5mm audio jack
Expansion I/Os

Digital I/O Pins – GPIO, SPI, I2C, UART, PWM, I2S
Analog Pins – 2ch (0.7V range)
Camera interface

USB – 1x micro USB port for programming and power
Power Supply – 5V via micro USB port
Dimensions – 50 x 20.6 mm
Sony SPRESENSE expansion board:
Storage – micro SD cardslot
Audio input / output – 8ch digital microphone input or 4ch analog microphone input, 3.5mm headphone jack
Arduino header

Digital input / output – 3.3V or 5V digital I/O
Analog terminal – 6ch (5.0V range)

USB – 1x micro USB port underneath the board
Dimensions – 68.6 mm x 53.3 mm