Google Unveiled the Coral Dev Board Hardware Kit for AI Development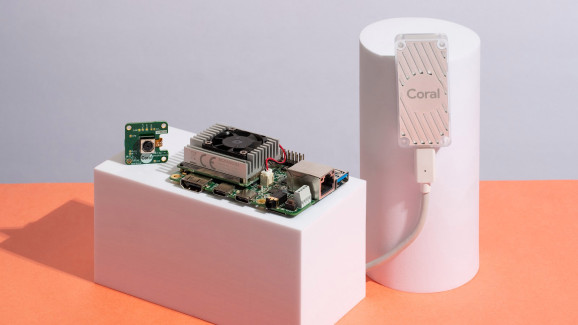 Google continues to expand its range of AI products and services with a trio of new hardware devices aimed at the development community, launching the new Google Coral brand.
It includes a $150 development board featuring a removable system-on-module with one of its custom tensor processing unit (TPU) AI chips, a $74.99 USB accelerator USB dongle designed to speed up machine learning inference on existing Raspberry Pi and Linux systems, and a 5-megapixel camera that's available for $24.99.
The Coral Development Board, which runs a derivative of Linux dubbed Mendel, spins up compiled and quantized TensorFlow Lite models with the aid of a quad-core NXP i.MX 8M system-on-chip paired with integrated GC7000 Lite Graphics, 1GB of LPDDR4 RAM, and 8GB of eMMC storage (expandable via microSD slot). It boasts a wireless chip that supports Wi-Fi 802.11b/g/n/ac 2.4/5GHz and Bluetooth 4.1, a 3.5mm audio jack, and a full-size HDMI 2.0a port, plus USB 2.0 and 3.0 ports, a 40-pin GPIO expansion header, and a Gigabit Ethernet port.
The Coral USB Accelerator is basically a plug-in USB 3.0 stick to add machine learning capabilities to the existing Linux machines. This 65 x 30 mm accelerator can connect to Linux-based systems via a USB Type-C port. It can also work with a Raspberry Pi board at USB 2.0 speeds. In contrast to the Dev Board, the accelerator is built around a 32-bit, 32MHz Cortex-M0+ chip with 16KB of flash and 2KB of RAM.

Developers can build Machine Learning models for both the devices in TensorFlow Lite. More information is available on Google's Coral Beta website. Coming soon are the PCI-E Accelerator, for integrating the Edge TPU into legacy systems using a PCI-E interface.