Fully Customizable Plywood Laptop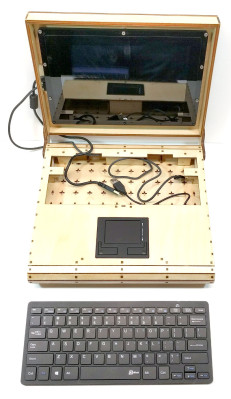 Plytop Shell is a project started in 2016 with the aim of creating a Raspberry pi powered laptop.
Originally Rory Johnson was working on a 3D printed design, but he encountered many issues on printing the laptop case in one shot. So the design needed to be broken up into multiple smaller pieces and then grafted together into the final case.
Eventually he got hooked up with a maker collective in Minneapolis that had a laser cutter, and the PlyTop was born. There's still a 3D printed component in the design that goes in the screen hinge, but the rest of the PlyTop is cut out of a three 2′ x 4′ sheets of 1/8″ Baltic birch plywood.
The Plytop Shell is originally designed to accommodate the Raspberry Pi, but it can also house other similarly sized SBCs. It aims to provide the builder with a completely customizable mobile computer.
In keeping with the idea of complete flexibility, there's no defined layout for the internals of the PlyTop. An array of star-shaped openings on the bottom plate allows the builder to connect hardware components up in whatever way works for them.

For further information, files, materials and components of the Plytop Shell you have only to click here.