FarmBot the Open Source Farming CNC Robot
By
Staff
on December 28, 2015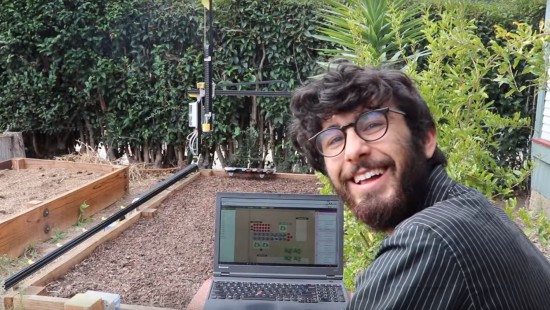 Farmbot is the first open source cnc farming machine with the aim to create an open and accessible technology aiding everyone to grow food and to grow food for everyone. It runs on open source hardware like Arduino Mega 2560 and involves a community of contributors on the wiki and forum where you can find documentation, schematics, assembly guides, troubleshooting tips and many more on all currently supported and old FarmBots.
Rigid and lightweight, the Genesis Gantry is constructed from durable aluminum extrusions and 5mm thick connecting plates. Coupled with powerful NEMA 17 stepper motors, the system can precisely position tools in the XYZ space with millimeter accuracy.

Sensors, drills, nozzles, seed injectors, and more. FarmBot's Universal Tool Mount provides 12 electrical connections and three liquid or gas lines that can support any tool you can imagine. Tools are magnetically coupled allowing FarmBot to automatically select the right tool for the job.

FarmBot ships with the most common electronics of the DIY world: The Raspberry Pi 2 and Arduino Mega 2560. These platforms work seamlessly with the FarmBot software right out of the box and each are backed by a thriving community that can help you hack.

More info at Farmbot Homepage.
Source: Arduino Blog – Farmbot and why documentation's vital to open source projects