DIY Pov Rgb Led Globe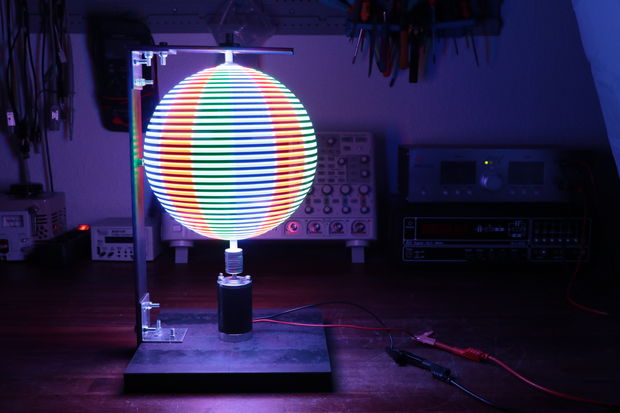 "In this project I will show you how I combined a couple steel pieces with an Arduino, an APA102 LED Strip and a Hall effect sensor in order to create a POV (persistence of vision) RGB LED Globe. WIth it you can create all kinds of spherical pictures or even letters which is a definite eyecatcher."
The Instructables user 'GreatScottLab' recently built his new POV Led Globe.
On his page you can find the step by step manufacturing process, project's schematics and all the additional information you may need to build your own Globe.
Hardware required:
1x Arduino Nano
1m x APA102 LED Strip (144 LED/m)
1x U18 Hall effect sensor
1x LiPo Battery
1x TP4056 Protect/Charge circuit
1x Boost Converter
1x Ball Bearing
1x 12V 3000RPM DC Motor
1x 8mm/5mm Adapter

Watch the video below for further information.