Crowdfunding your Open Source Electronics Projects
Many of you may have wondered several times about how to fund your experiments or even how to create products using crowdfunding platforms to supply capital.
Crowdfunding has definitively characterized the past two years as a too important phenomenon to be overlooked by the hardware designers of our time.
But what is the approach that hardware makers and open source electronics advocates shall have? Which platform? Which product shall you use?
The question is tough, as these opportunities are still in the emergent stage for independent hardware makers but many projects have already achieved tremendous success or at least succeeded to fund themselves: time to make some clarity on the opportunities.

The Classic options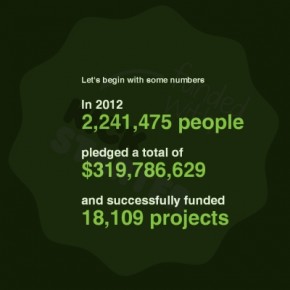 The numbers behind Kickstarter in 2012 are amazing (http://www.kickstarter.com/year/2012) and the global awareness around the role of crowdfunding in generating new opportunities for creatives is no longer a question mark.
Thanks to a very brief search on kickstarter and "open source" you'll see a load of great projects showing up: if you just refine a bit the search, you'll see that projects related with open source hardware that have been recently funded are hundreds.
Ranging from very ambitious projects such as Lasersaur (a full fledged Open Source  Laser Cutter that is being much awaited from the community) or Robo3D a promising open source 3D printer (that declares to be more effective than MakerBot Replicator 2) to particular niche projects such as the Console II (an "open source cartridge based platform for guitar fx effects") or the fantastic underwater rover OpenRov.
The visibility you could have on platforms like Kickstarter is unique, but it will be like throwing a bottle into the ocean and hoping that you get it on an island on the other side of that.

The numbers behind kickstarter are great news for the crowdfunding phenomenon in general, but this doesn't exactly mean that is is easier for you to get people's attention on your project and get support. Kickstarter community is, in fact, very large but composed of people who have the most diverse interests.
At this point it in time is important to reveal a basic truth behind the approach to crowdfunding: unless your project has a real global appeal and that you are able to generate a meme effect like the one we see from time to time – remember the OSTRICH PILLOW? :) – those designed to support your project will be, in particular, those who have an empathic link with the same or with you as proposers.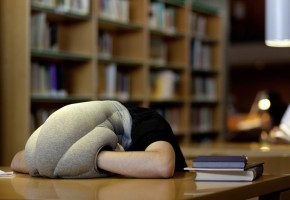 The first step in creating a successful crowdfunding campaign is in fact create a social network of concerned supporters of your project: people who believe in you even before the idea is out.
Another myth to debunk is that the quality of the project itself is the sole referee of the  success of your crowdfunding campaign: your attitude is as much important and your awareness of all the efforts that are behind a successful campaign is key to win.
Whatever it takes: having a succesfull campaing
A few months ago United Equity took the time to summarize in a wonderful Crowdfunding Manifesto everything that should be known by anyone who comes up with the idea of financing a project thanks to the community.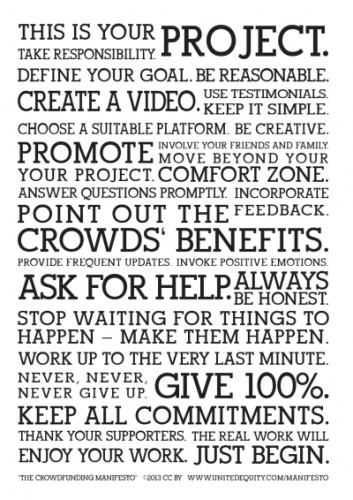 Among the many items in the poster, some key ones, which is worth remembering are those that follow:
This is your project, Take Responsibility: you are the lead of the project, don't expect others to promote it and making it real. It's YOUR business.
Create a Video: A video is a key aspect, it will be key to explain better the scope and to create empathic links with your backers.
Incorporate Feedbacks: incorporating feedbacks all the way will strengthen your link with the community, will help you make key decision about the project and make it more clear to what the community really expects, ie: what's going to be backed.
Never, Never, Never Give Up: a crowdfunding campaingn can be long, consuming, hard. Never giving up is a key mindset, since things may end up getting better when you are keen to think that everything is gone. Don't give up!
In considering which platform to use, another key aspect to consider is your geographical location. Kickstarter platform for example, is only available in the United States and, for some time now, in the UK. For now this wouldn't be a choice for those of you who do not live in those countries, unless you've some component of the project, friend of partner that is willing to manage this part.
More niche choices
Other crodwfunding generalist platforms are active in Europe and give several chances. Some have already been used by the makers from the old continent. One could cite Ulule – now available across all Europe – the Italian Eppela (which recently hosted the campaign of Fattelo! – an interesting open designed, cardboard based lamp) or Kiss Kiss Bank Bank, with a specific focus on France and the UK.
Yet in these contexts, financing ideas regarding the general scope of open source hardware and electronics are minimal and of very small size.
An interesting alternative that might actually take off in the coming months and to keep an eye on is Goteo.
The platform was born Spain and is now among the most important global platform when it comes to open source and financing projects based on the so-called commons.
For now there are not so many projects in the open source hardware category, but something begins to move and projects Like Kinoraw – a "project that focuses on research and development of open hardware and software in the audiovisual context."–  and Nodo Movil – "A free transmission workstation, mobile wireless telecommunications infrastructure Which can be used in the urban space contributing to the mess across digital citizens' networks." –  both funded, start to show a growing interest in this type of project, especially when those are linked to the idea of openly sharing the designs.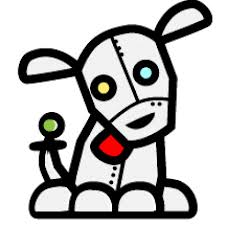 Another platform that is certainly worth to mention is Tindie. Tindie is self dubbed as "The marketplace for electronics built by independent makers": the platform was created during 2012 by Emile Petrone and recently received a $ 500K seed found to expand its business.
Tindie was created around the idea of giving a new generation of Indie Makers the opportunity to sell their products on an independent marketplace: to become what Etsy is being for a new generation of artisans.
For some time now however Tindie launched the Foundraiser projects: designers who do not want to buy spare inventory before starting the production of the pieces, can go for a two weeks "blitz" with the objective to find a minimum number of buyers before starting.
For now, this is an experimental feature, but everything suggests that, especially after the investment received, Tindie will grow the possibility around such a feature.
Despite Tindie seem like a minor and limited alternative for now, respect to more traditional crowdfunding sites, I have the impression that it will likely become the reference for those productions that are characterized by high innovation (it is targeted to an audience made of makers and early adopters) and very limited numbers, among the tens and hundreds.
If your idea is something like that, then keep eye Tindie and maybe ask Emile Petrone to be among the first to experience the Fundraiser feature.
Another interesting possibility, similar to that offered by Tindie, but even more community linked is that available on SeeedStudio.
Seeedstudio Wish works in a more complex manner respect to Tindie: it provides creative and inventors with the opportunity to use Seeed's facilities to actually build the object in question.
Although this platform is often used for components of small size and it is intended, rather than to gather creative ideas, to let shared needs grow up from the makers community that relies on Seeed, it remains an interesting alternative and soon you will be able to use a similar feature also on Open Electronics Store.
Another noteworthy platform that is certainly more mature for commercial products to is Quirky. Quirky dubs itself as a platform for making "Invention Accessible". However, the platform is focused on the design of everyday objects and is not really suitable for projects that have a certain complexity (too difficult to explain) or the ambition to be a little more innovative than a clever power strip.
As a further read, we suggest you to give a look to Mashable's How to Pick the Best Crowdfunding Platform. It might be a little less focused but it's worth reading to integrate more suggestions and find your way to funding your ideas.