Arduino Create toolkit now available for Intel-based systems running Linux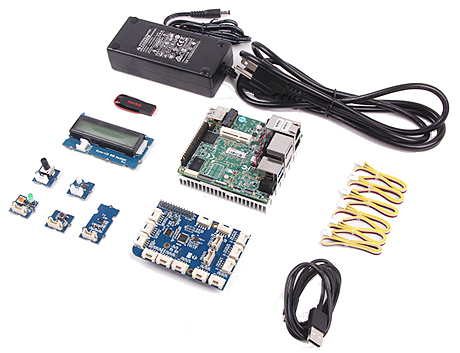 Intel now it's working to improve Arduino connectivity on Intel based systems running Linux with its cloud-based Arduino Create development software. Arduino Create is debuting on a kit version of Aaeon's Intel Apollo Lake based UP Squared SBC called the UP Squared IoT Grove Development Kit. The kit adds Seeed's Arduino compatible Grove Pi+ extension board, a display, and Grove sensors.
Arduino Create is integrated with the pre-installed Ubuntu 16.04 stack running on the SBC in order to ease rapid prototyping capabilities and supply a "more expansive set of tools, libraries, and code samples available for IoT development across verticals," says Intel.
Arduino Create includes examples specifically built for the UP Squared Grove IoT Dev Kit, as well as libraries such as OpenCV, Intel's Math Kernel Library (MKL), and its MRAA HAL library for low-speed I/O communication. It also supports system calls, as well as running multiple sketches concurrently. The software ships with examples using Amazon Web Services (AWS) and Microsoft Azure cloud services.
The UP Squared IoT Grove Development Kit offers pre-installed Ubuntu 16.04 and Arduino Create, which includes over 400 sensor libraries. The kit combines a standard UP Squared (UP2) board with Seeed's Grove Pi+ interface board, which normally interfaces to a Raspberry Pi 40-pin connector. Here, the board connects to the UP Squared's RPi-style 40-pin connector.

The UP Squared IoT Grove Development Kit also includes some of the components of the kit that ships with Grove Pi+, including a backlit Grove LCD RGB display. There are also Grove sensor modules including rotary angle, light sensor v1.2, button, green LED, and temperature/humidity.
The Up Squared used on the IoT Grove Dev Kit is equipped with an Intel Celeron N3350 (2x cores @ 1.1GHz/2.4GHz). This SBC features dual GbE ports, dual HDMI video outputs, a SATA interface, M.2 support, and mini-PCIe expansion. You also get eDP, dual MIPI-CSI, and 3x USB host ports, plus two general purpose expansion connectors: a topside 40-pin RPi-style header, and a high density 60-pin "EXHAT" connector on the bottom. Both expansion connectors are primarily coupled with the board's Altera Max 10 FPGA.