All the Power You Need in a Feather Form Factor SBC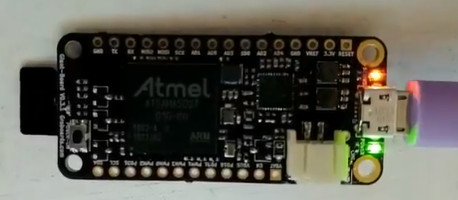 Giant Board has launched a new development board which is capable of running Linux on a form factor similar to that of the Adafruit Feather.
The tiny Feather-style SBC is powered by a Microchip SAMA5D2 ARM Cortex-A5 Processor 500MHz and has been created to provide users with plenty of power for a wide variety of projects and applications.
Preliminary specifications listed for the Giant Board include:
Processor (via SiP)— Microchip SAMA5D2 (1x Cortex-A5 @ 500MHz)
Memory (via SiP)— 128MB DDR2 RAM
Storage— microSD slot
Other I/O –Micro-USB port, 6x 12-bit ADC with 3.3V reference, 4x 16-bit PWM, ADC and PWM external triggers, I2C, SPI, UART
Power— 3.3V pin input; "full" 3.7V LIPO support
Operating system— Linux kernel 4.14
The stackable Feather form factor enables the Giant Board to be augmented with Adafruit's FeatherWing add-on boards. Groboard has built the first few Giant Board models by hand, and there is no indication when the Giant Board will be produced in greater numbers.

"Right now the Giant Board is 95% complete as far as the design of the board itself goes. The pinout is solid, but some minor changes to other parts of the design might still be needed before production. The plan is to release a small amount of Giant Boards to developers and early adopters interested in providing feedback, so I can make any final tweaks before the main production."
More information on the Giant Board is available on the product page.