Aetina's New ACE-N310 Carrier Board Enables 360° Surrounded View Application in Cars, Bots and Drones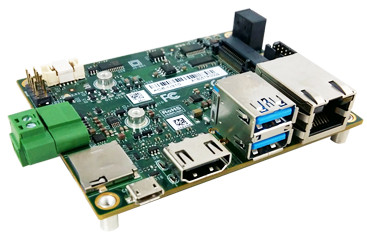 Aetina has launched its first carrier board for Nvidia's Jetson TX1 and TX2 modules that supports up to 6x cameras and offers -40 to 85°C support. The ACE-N310 enables 360° surrounded view application in vehicles, drones, robots, surveillance and automation and intelligent systems at the edge. With the help of the Jetson modules' AI-enabled Pascal GPU, the ACE-N310 lets you build multi-visual intelligent systems with advanced on-premises analytics and inference.
ACE-N310 is the Multi MIPI CSI Camera module supported carrier board, compliant to NVIDIA JetsonTM TX2i/ TX2 / TX1. With flexibly configures up to 12 lanes of CSI connectors through CSI-II or FPD-LINK III extension module, you can easily develop a multi-visual intelligent system with the advanced on- premises analytics and inference from the TX2 or TX1 energy-efficient AI computing platform. This compact yet tiny carrier design helps you to develop the 360° surrounded view applications with time-saving, flexible and reliable way in vehicles, drones, robots, automation and surveillance.
The iNAVI Linux distribution, which adds customizable security, system recovery, and backup features is available with the ACE-N310.
Aetina offers a variety of Sony IMX based, HD resolution MIPI-CSI camera modules to choose from, as well as an optional, FPC-connected ACE-CAM6C camera board with 6x CSI-2 cameras. There are also "certified" mini-PCIe based I/O modules including dual isolated GbE and PoE add-ons and a 4x USB 3.0 option, all with 0 to 70°C and -40 to 85°C support.
Standard ACE-N310 features include HDMI, GbE, micro-USB 2.0, and 2x USB 3.0 host ports. Onboard interfaces include RS-232, I2C, and 5x GPIO, as well as 2x CAN Bus connections that work only with the Jetson TX2 and TX2i.