5 HATs to Take Your Raspberry Pi Zero Project to the Next Level
I like the Raspberry Pi Zero quite a bit. Now that the V1.3 has a dedicated camera port, it's even better. Compared to rivals, the $5 dollar Pi Zero has a lot more to offer… and that comes from the community and the support add-ons, or HATs in this case. Pi HATs have been around for a while, but there has been a wave of them designed with the Pi Zero footprint in mind. Here is a short list that take this able little board to even higher levels.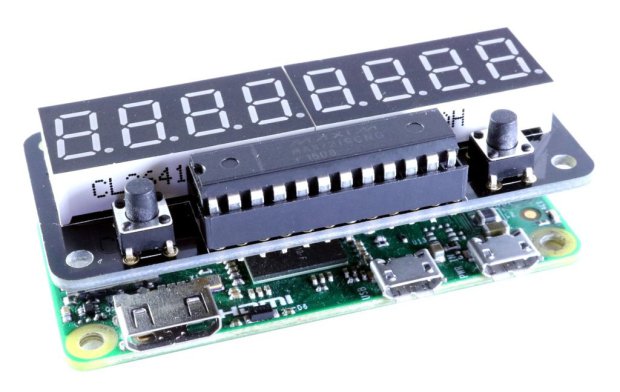 The ZeroSeg gives it the ability to display whatever you want. It's a display add-on board that works with either Raspberry Pi Zero or other Raspberry Pi models with 40 pins. Featuring two red seven segment display modules (4 digits each) and tactile buttons that control displays and brightness of the board, the ZeroSeg is meant to be easy to use.
The MotoZero is a motor controller add-on that lets you control up to four motors independently. Not only does it look aesthetically pleasing, it's also efficient and powerful. It's meant to be easy to use; just plug in the Pi via USB and add the motor. Similar to the other add-ons, the MotoZero works with Pi Zero along with other Raspberry Pi Models with 40 pins. It also protects itself from motor flyback voltage spikes with built-in flyback diodes in the controller chips.

The Enviro pHAT has a BMP208 temperature/pressure sensor, TCS3472 light and RGB color sensor, LSM303D accelerometer/mangtometer sensor, and an ADS1015 4-channel 3.3v, analog to digital sensor (ADC). Similar to the aforementioned boards, this one works with any 40pin Raspberry Pi variants. See more about the Enviro pHAT after this link.
The Micro Dot pHAT is another option if you're looking for a display board for your Raspberry Pi. Unlike the ZeroSeg, the Micro Dot offers a retro LED matrix display. It features six LED matrices 5×7 pixels. The matrices come in a choice of green and red. With up to 30×7 pixels and the ability to drive up to 6x LTP-305 LED matrices, the Micro Dot pHAT can be used for a wide range of projects, like an old school clock or a display for your scrolling messages.

The RasPiO Analog Zero is an efficient board that allows you to add eight analog channels to your Raspberry Pi. So, what exactly can you do with the RasPiO Analog Zero? The various analog inputs give you a wide range of options, including digital thermometer, voltmeter, a huge amount of sensors and a weather station. It even allows you to read analog sensors and voltages. It's also easy to code and no software installation needed. Since GPIO Zero is part of the standard Raspbian distribution, you don't need to boot up software to get the RasPiO working. You can get straight to working on your projects rather than getting frustrated over the instructions.
Source: 5 HATs to Take Your Raspberry Pi Zero Project to the Next Level