2018 Hackaday Prize Invites Community of Designers, Engineers and Makers to Build Hope Through Open Hardware Projects
https://www.youtube.com/watch?time_continue=2&v=c8LM4IMILuw
[bctt tweet="Worldwide Competition Seeks Solutions to Address Issues Facing Humanity" username="OpenElectronics"]
The fifth annual Hackaday Prize, a global competition that challenges makers, engineers and designers of all backgrounds to "Build Hope" through open source hardware projects launches today. The 2018 Hackaday Prize follows suit from last year's competition by splitting up the seven-month-long contest into five themed challenges that run five weeks each from March 12 to Oct. 8.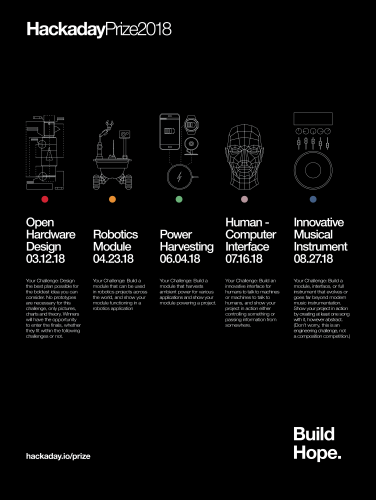 The first round of the competition is the "Open Hardware Design Challenge," where entrants are encouraged to design the boldest plan they can dream up. Prototypes are not necessary for this challenge – only pictures, charts and theory are required.
The Open Hardware Design Challenge kicks off today and runs through April 23.
The remaining rounds are the "Robotics Module Challenge" (April 23-June 4), "Power Harvesting Challenge" (June 4-July 16), "Human-Computer Interface Challenge" (July 16-Aug. 27) and the "Innovative Musical Instrument Challenge" (Aug. 27-Oct. 8).
"We're excited to partner with Hackaday for another year of challenging inventors to be curious, creative and determined. The Hackaday Prize contest aligns with Digi-Key's vision to encourage and enable innovation in technology that will solve problems and advance civilization. With the amazing projects we've seen in previous years, we can't wait to see what the entrants create this year, " said David Sandys, director, Business Ecosystem Development at Digi-Key.
The top 20 entries from each challenge will win $1,000 and be considered for the Finals Round.
The top five finalists, including the Grand Prize winner, will be announced at the Hackaday Superconference taking place Nov. 2-3 in Pasadena, California.
The Grand Prize winner will be awarded $50,000 and considered for a residency at the Supplyframe DesignLab in Pasadena, California.
The second-, third-, fourth- and fifth-place winners will receive $20,000, $15,000, $10,000 and $5,000, respectively.
In addition to cash prizes, participants will compete throughout the competition for most impressive, outlandish and otherwise notable projects. Although there is no cash value associated with these accomplishments, they do come along with bragging rights. Examples of possible Achievements include the Diva Plavalaguna Achievement (most unexpected musical instrument), the Sonic
Screwdriver Achievement (hacks that seemingly do everything) and the Ender's Achievement (most incredible student submission).
Hackaday awarded the 2017 Grand Prize to Alex Williams, inventor of the Open Source Underwater Glider – a low-cost, autonomous glider capable of long-term underwater exploration of submarine environments. Previous winners include the creators of the Eyedrivomatic, a device that allows wheelchair users to drive the wheelchair with just their eyes, and Dtto, a modular self-reconfigurable robot designed for all-terrain search and rescue operations.
The 2018 Hackaday Prize judges represent the best and brightest in the engineering and maker communities, including Sherry Huss, co-creator of Maker Faire; Mark Rober, a former NASA engineer and incredibly popular YouTuber; and Danielle Applestone, CEO of Bantam Tools.
Individuals or teams from the USA, U.K., India and many other countries are eligible to enter.
Universities, colleges, hackerspaces and startups are strongly encouraged to take part, as are young hackers. Applicants must be 13 years of age or over to participate.
The Official Rules for the 2018 Hackaday Prize can be found at hackaday.io/prize/rules-en.
To learn more about the Hackaday Prize, please visit hackaday.io/prize or follow contest news on Twitter at @hackaday or #HackadayPrize.