Turn your Raspberry Pi into a music making machine with Pisound!
Thanks to the pisound board from Blokas, musicians can connect all manner of audio gear to their Raspberry Pi, bringing their projects to a whole new level. Essentially, it's a HAT for the Raspberry Pi 3 which transforms your Pi into a complete audio workstation!
On its surface pisound is the first all around solution for your Raspberry Pi based audio projects Equipped with Hi-Fi stereo input and output, classic MIDI In and Out ports, user-customizable button and bundled software tools.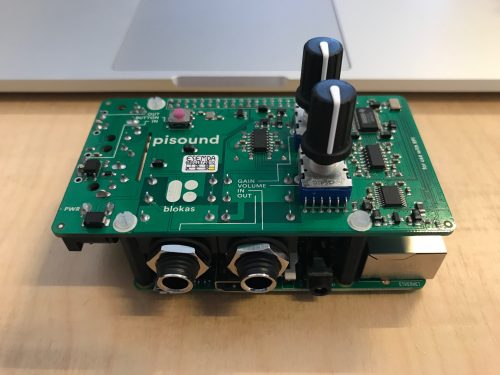 Being super simple to use, pisound mounts directly onto the Raspberry Pi via its 40-pin header, with no additonal power, cables soldering or anything… All you need to do once the Pi boots, is connect to the internet and enter a few commands in a terminal widow.

It can be used with a massive range of different Audio and MIDI hardware. Thanks to the design of stereo input with wide-range gain control, you can connect audio sources ranging from your bass guitar to a CD player or your modular synth. Volume and Gain levels can be controlled using on-board knobs. MIDI In/Out through on-board DIN-5 sockets, USB-MIDI via Pi's USB ports or even WiFi-MIDI are all included too.
Pisound has also been designed to operate in headless mode – without an external monitor, keyboard or mouse, in other words. This is enabled by The Button, which responds to various interactions (click/double-click etc) and gives you the option of opening Pure Data and other patches straight from a USB thumb drive.
Sonic Pi will also support the board very soon. This means you don't even need to be able to play an instrument to make something awesome with this clever little HAT.
Pisound is already gone through its funding target on Indiegogo, though an $89 pledge should still get you one in June of 2017.