tinyK20, perfect for wearable computing
By
Staff
on November 30, 2015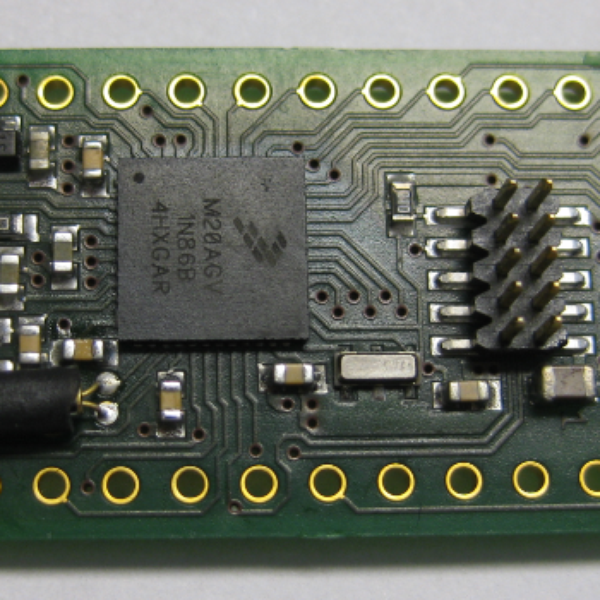 This project is about to build a small and tiny (48mm x 19mm) development board based on a Freescale Kinetis K20 device (ARM Cortex-M4 running at 50 MHz). The microcontroller pins are on the outside to use the board with a breadboard. The board includes the option for an micro SD card, 32 kHz clock and a 3.3V DC-DC converter. The ARM Cortex can be debugged with standard development tools (Eclipse, GNU, SWD).
Main Features
Freescale Kinetis K20DX128 Microcontroller (K20DX128VFT5)
ARM Cortex-M4, 50 MHz, 128 KByte FLASH, 16 kByte RAM
USB, ADC, DMA, FTM, I2S, I2C, PIT, GPIO, UART, TSIO, CMP, DAC
Internal 5V to 3.3V DC converter (120 mA)
Optional Micro SD card
Optional 32 kHz RTC clock
Optional 3.3V DC-DC converter
Compatible to OpenSDA circuit on Freescale FRDM boards
Microcontroller pins breadboard friendly on the outside
Standard ARM SWD (Single Wire Debug) for flashing and debugging
Detachable debugging circuit: board can debug external boards
Applications
Data logger
Wearables
Robotics
Debugger (OpenSDA, OpenOCD, pyOCD, CMSIS-DAP)
Example projects available for Eclipse (GNU ARM Eclipse with GNU lauchpad)/Kinetis design Studio.

Source: tinyK20, small uC board and debugger