Sfera Labs' Iono Pi Max combines an industrial server with a programmable controller in single DIN-rail solution

Industrial-grade solution based on Raspberry Pi, open source software and optimized hardware is set to disrupt the IIoT
Sfera Labs, serving the IIoT with open source solutions, is pleased to announce the introduction of the Iono Pi Max, an industrial-grade server with integrated PLC functionality and advanced power management. The integration of a server and programmable controller makes the Iono Pi Max the all-in-one solution for industrial control.
The Iono Pi Max joins Sfera Labs' existing range of industrial controllers and servers based on open source platforms. By applying its domain expertise in this area, Sfera Labs has brought together many of the features available separately in its existing portfolio, into a single, optimized and powerful product.
As the name may suggest, the Iono Pi Max is based on the Raspberry Pi Compute Module single-board computer, with additional hardware to provide a complete solution based on open source technology. This puts the Iono Pi Max in a disruptive and competitive position, offering all of the features of a proprietary and more expensive industrial PLC but at a much lower price point.
The processing element of the Iono Pi Max is a standard Raspberry Pi Compute Module, so any software or program that can run on a Raspberry Pi will run on the Iono Pi Max. An additional integrated microcontroller allows further application code to run alongside the Raspberry Pi, offering true real-time response and control. With extensive analog and digital interfaces, the Iono Pi Max can connect to and control multiple external sensors and actuators, to create complex control systems.
Because the platform is completely open, users can implement any software their application needs, and run it on any operating system that supports the Raspberry Pi.
The Iono Pi Max's microcontroller is also in-field programmable, through the Raspberry Pi, with custom firmware.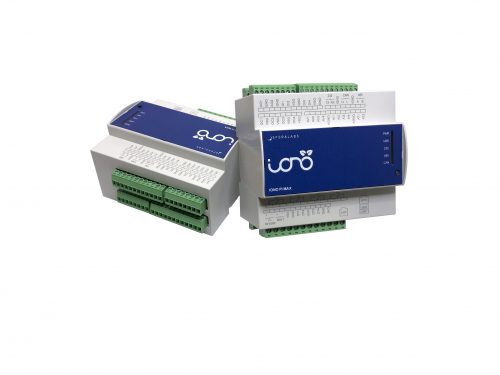 The Iono Pi Max is supplied in a DIN-Rail mountable enclosure with the option of a UPS for use in applications where protection from the disruption caused by a power outage is critical.
The hardware features of the Iono Pi Max include: relays; digital I/O (bidirectional TTL, digital inputs and open collector outputs); Wiegand, 1-Wire, Ethernet, CAN, RS-232 and RS-485 interfaces; high resolution voltage and current inputs and outputs; dedicated temperature sensors inputs; a hardware watchdog and real-time clock.
Security is built in and the Iono Pi Max also features dual SD cards for redundancy and in-field software updates, along with an I2C bus for further system expansion.
By including UPS capability, the addition of one 12V/24V rechargeable battery means the Iono Pi Max can continue to operate even in the event of a power outage.
Connected sensors, as well as other external devices, like cellular routers, can also be powered by the Iono Pi Max. This, coupled with the ability to interface directly to solar panels, also makes the Iono Pi Max ideal for off-grid applications. The Iono Pi Max is compliant with the FCC and IC electromagnetic emissions limits for use in residential, industrial or commercial environments, and with the European Market electromagnetic emissions and immunity standards for residential, commercial and light-industrial environments.
"We believe that open source solutions are reshaping the IIoT marketplace," commented Ulderico Arcidiaco, Co-founder and CEO, Sfera Labs. "The Iono Pi Max is unique in its offering, as no other solution combines as much functionality with as many features in a single package."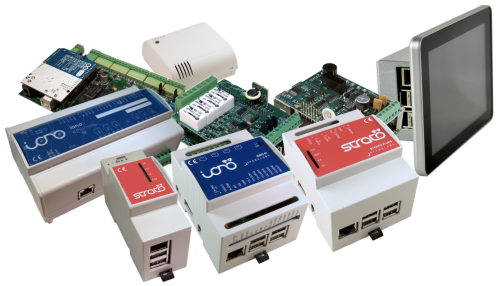 Founded in 2016, Sfera Labs is an Italian private company that designs, manufactures and sells servers,
embedded systems, I/O modules and sensors for industrial automation, IoT and edge computing based
on innovative, widespread, open source, community-supported technologies such as Raspberry Pi and
Arduino. Sfera Labs also offers OEM solutions as well as custom product design and branding, and
software development services. The company is dedicated to delivering high-quality, innovative,
flexible solutions to meet the requirements of the modern industrial automation market. Visit Sfera
Labs at www.sferalabs.cc.