Professional NEC displays: you can now integrate Raspberry Pi and Ubuntu Core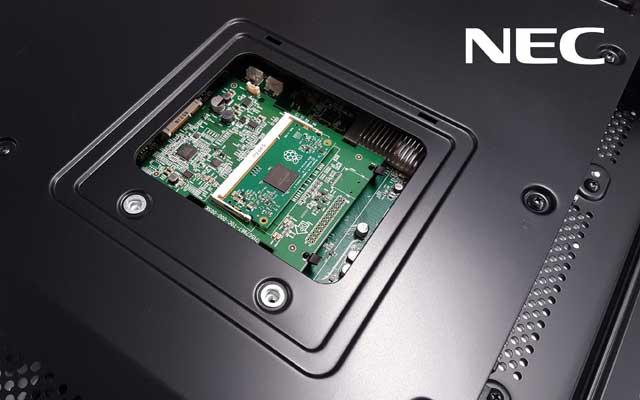 NEC Display Solutions Europe has announced a collaboration with Canonical Screenly . The intent will create a synergy between the NEC displays, the Raspberry, the Ubuntu Core OS and the Screenly platform. The Raspberry Pi Compute Module 3 (CM3) can be integrated with all & NEC Series P and V display, available in 40 ", 48" and 55 "cuts.
Ubuntu Core is the operating system that was born as a simplified version of Ubuntu for Internet of Things and for integrated devices. To complete the framework is the Screenly platform, used to handle the functions of digital signage (the so-called "digital billboards").
The displays can then leverage a media player capable of playing Full HD video, images, and pages. There are also remote monitoring and control systems, so NEC has created a perfectly ecosystem. This allows you to create and manage more or less complex installations for digital signage, simplifying the installation and use of systems.
Jatin Bhatt, Strategic Alliance Manager at NEC Display Solutions Europe said: " Companies are looking for highly reliable technologies to continue improving their adoption and use of digital signage. The cooperation with Canonical and Screenly enables seamless integration of digital signage functionality and content management features into a single smart device, leveraging the power of the Raspberry Pi CM3 right inside our P and V Series displays. Together, this creates a simple but very secure, self-contained and effective solution for digital signage applications, supporting the NEC Open Modular computing strategy ."

Mike Bell, EVP of IoT and Devices at Canonical commented: " Digital signage platforms are now an increasing must-have feature for businesses all around the world. By partnering with the brightest minds in the industry, we can continue to develop enterprise and embedded IoT uses for Ubuntu Core. NEC's large format displays with their support for Raspberry Pi Compute Module 3 running Ubuntu Core, offers a compelling and fully-integrated solution ."

Viktor Petersson, CEO of Screenly added: " NEC's open modular platform approach and IoT focus with Raspberry Pi CM3 allows us to push our software right into the heart of the digital signage hardware platform, providing a vibrant yet secure digital visual proposition that takes full advantage of the opportunities the IoT offers to advertisers and other organisations to personalise content and be more interactive. We look forward to working with NEC and Canonical to deliver the future of CMS digital signage ."