Polyfuge: Open Source Microcentrifuge Kit on Kickstarter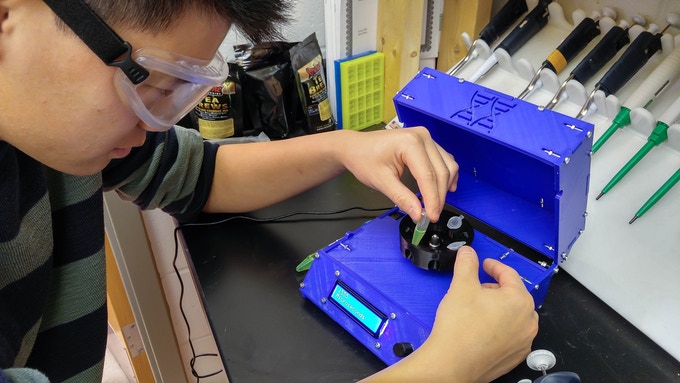 If you'd like to do biological experiments, one of the most important tools you'll need is a centrifuge. These devices can separate biological substances into their component parts by weight by spinning them around at a high RPM. Blood, for instance, can be separated out into plasma, white blood cells and platelets, and red blood cells for experimentation.
Centrifuges are generally quite expensive, costing over $300 for even budget models. Jason Wu and the DoubleGene team, however, are looking to change that with the Arduino-based Polyfuge.
The Polyfuge boasts a simplistic, lightweight, and sturdy design that takes up very little space on the lab table. It is constructed from interlocking panels reinforced with M3 nuts and bolts, making the overall structure highly robust. For rotation, they utilized a high-speed 2300kv brushless motor for effective yet controlled centrifugation, while an optical sensor helps prevent users from directly making contact with the rotor during centrifugation sessions.
The Polyfuge also features a basic rotary encoder-LCD screen interface. Although there is some assembly required, once finished, students and biology fans will know how the piece of equipment works, and since it will be open source, modifications and improvements can be made as needed via some Arduino coding.

Jump on Kickstarter page to learn more.