OpenPicus presents new IoT professional platform: FlyportPRO WiFi
By
Staff
on November 25, 2013
The boys at OpenPicus R&D are volcanoes: now it's time for Flyport  PRO: an opensource hardware platform for professional users: it's smaller, more powerful and CE Certified! Like the perfect platforms for companies building IoT.
Check it out!
See the size: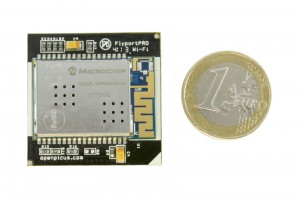 Flyport module is already into lot of end user products but we wanted to do more. We made a survey in June and we asked our professional customers (hundreds of companies all over the World) what they want us to add/modify of the actual Flyport.

The result was:

A smaller dimension (IoT and connected objects are becoming really small)
A thinner module (the actual Flyport is not so thin due to its connector)
Lower price in volumes
Higher pin count (Flyport has lot of processing power and users want to use the max possibilities the microcontroller provides)
Bigger RAM size (handling XML or other kind of file is sometime difficult with 16K of RAM)
EEPROM onboard to save parameters and settings
CE certification (in this way if you make a complete product you save lot of certification cost)

We worked on the idea and today we are proud to announce: FlyportPRO Wi-Fi!
 openPicus – Blog » Blog Archive » FlyportPRO: a professional Flyport for high volume customers.