Omega2 based Oboo Clock: BT speaker and gesture controlled streaming

Onion's Oboo Smart Clock BT music streamer is built on its Linux-driven Omega2 COM, and offers 3W speakers, device charging, and WiFi-based info updates.
All four available models measure 152 x 62 x 30mm, and offer a customizable clock display. There's also a small, color LCD display with smartwatch-like informational "cards" for WiFi-connected updates to weather, traffic, calendar, timer, and music controls. The displays dim and brightens according to ambient light levels.
You can interact with these cards via gesture, such as flipping horizontally to switch to a new card or up and down to drill down within a card or back out. There's also a top-mounted touchpad that can be used for volume controls. When the context demands it, this converts to an colored LED display that acts as a night light and reveals four touch buttons.
The back of the model incorporates dual USB ports for charging your phone or other devices, and there's a power button and jack. Most of the models also include a 4400mAh battery with 8 hours of music streaming and 20 hours of passive use, and one model has a Qi wireless charging pad.
There's no mention of Linux, but in the comments, Onion says the Oboo runs on the same OS as the Omega2, which is Linux.
The device includes Alexa and IFTTT support, so your alarms can trigger devices on an Alexa connected home automation network.
Four models are available on Kickstarter:
Uboo Smart Clock — $69 — This basic model lacks the Bluetooth music support and battery of the other three models, but if the campaign hits 100K funding, it gets the same streaming Internet radio as the other packages.
Uboo Smart Clock Music — $79 — You get everything the basic model has plus Bluetooth and a battery.
Uboo Smart Clock+ — $97 — The Clock+ builds on the Music model's features with the addition of a wireless charging pad.
Uboo Smart Clock Maker Edition — $255 — This model is like a Clock+, but with two power supplies instead of one, and a March 2018 ship date instead of June. The maker model also includes a "programming tool," which apparently means an SDK. The Maker package gives you the ability to "tinker to your heart's content" and "follow along with the development process and get beta software upgrades as they become available," says Onion.
The extra $158 for the Maker Edition seems like a bit much for SDK access even if you do get an extra power supply and early access, however it's an impressive showcase for the capabilities of the low-powered, MIPS-based Omega2 module.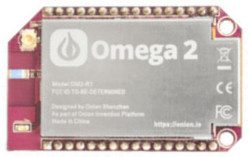 The Omega2 inside the Oboo Smart Clock runs Linux on the same 580MHz, MIPS-based Mediatek MT7688 system-on-chip found on the original Omega. The MT7688 is notable for offering a built in WiFi radio.