New open source recipe for a stereolithographic Resin, directly from Autodesk!
By
Staff
on March 23, 2015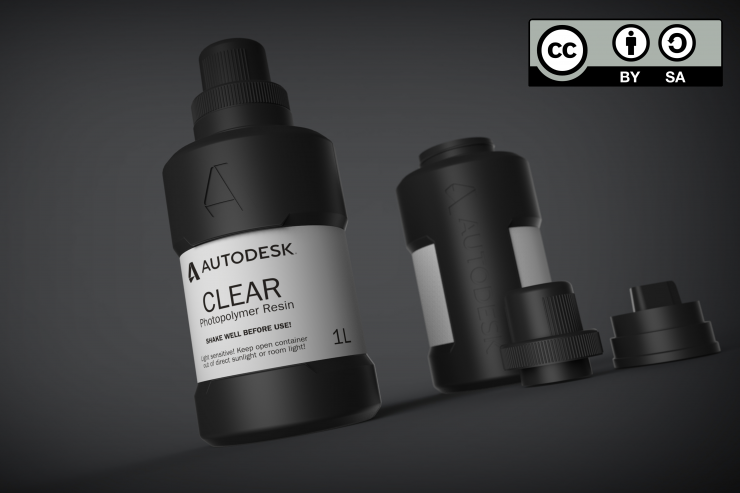 After releasing their first, and open source, stereolithographic 3D printer, the Ember, Autodesk announced the release of an open source resin for Ember printer and all the other compatible printers from makers all over the world. This is a clear and strong signal from Autodesk that is aiming first at trying to make 3D printing accessible and useful to the masses, rather than profiting off of the sale of these machines.
In turn, this could create a large demand for their 3D modeling software, thus bringing in revenues indirectly.
The resin is called PR48, and it stands for "Polar Resin Number 48″. It is the company's 48th try at creating a polar resin, and apparently they are satisfied enough with its performance that they are choosing it as the first resin in which they elect to open source, thus sharing the formulation under a Creative Commons Attribution-ShareAlike license.

"We're explicitly inviting you to understand, remix, and remake our resin," writes Eric J. Wilhelm, Head of Autodesk's hardware group. "PR48 will soon be for sale on our site. Buying it from us will probably be the easiest way to get more, but if you want to make your own for any reason you can do so. Open sourcing our resin formulation is only the first step in the journey of opening our 3D printer and our Spark 3D printing platform."
So here it is, the official recipe for the Autodesk Ember PR48 Resin (percentages are wt/wt):
Photoinitiator: 2,4,6-Trimethylbenzoyl-diphenyl-phosphineoxide (TPO) 0.40%
UV blocker: 2,2'-(2,5-thiophenediyl)bis(5-tert-butylbenzoxazole) (OB+) 0.16 %
Reactive diluent: Genomer 1122 19.89%
Oligomer: Ebecryl 8210 39.78%, Sartomer SR 494 39.77%

via Autodesk Open Sources Their 3D Printer Resin – Providing Recipe to All & Opening the Door to New Materials – 3DPrint.com.