NeTV2: the FPGA-based Open Video Development Board for Your Raspberry Pi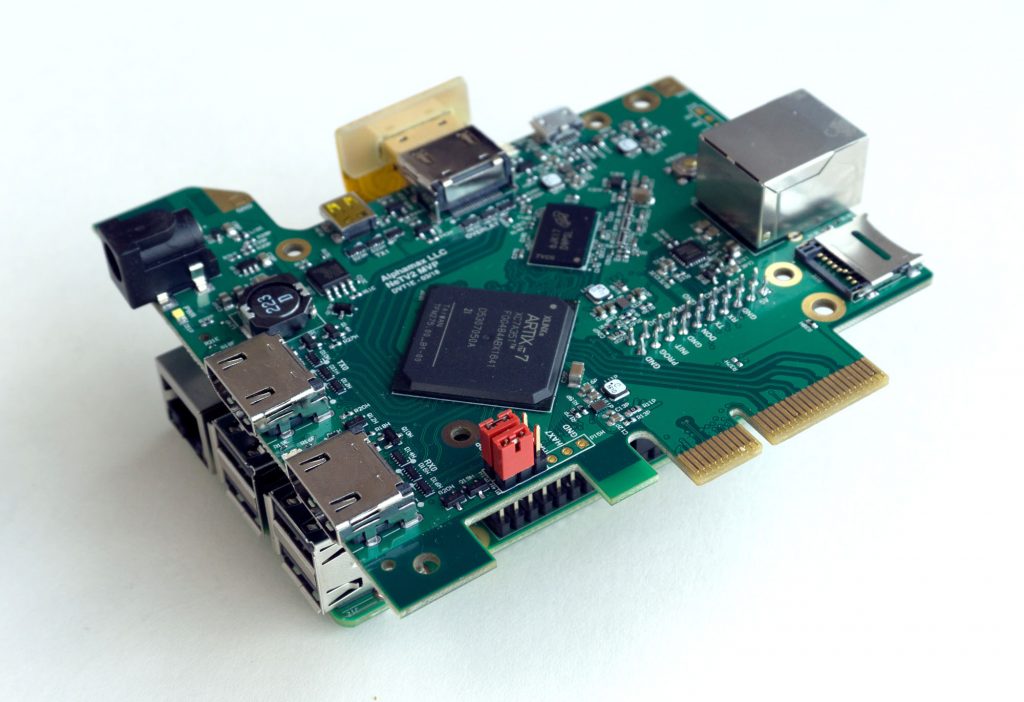 Alphamax is crowdfunding a provocative open source NeTV2 project that nips at the edges of the law. The NeTV2 is an FPGA-based Raspberry Pi add-on board for overlaying content on encrypted video signals, as well as encrypting unencrypted video such as DVI streams.
From its predecessor – the $150 NeTV board –  the NeTV2 inherits the "NeTV Classic Mode," giving you the ability to add encrypted pixels to an encrypted video stream. For example you can add subtitles to movie streams, translate on-screen text in real-time, or block ads.
The new NeTV2 also supports a new Libre mode, which works only with unencrypted video feeds, but has full access to the entire video stream. It allows you to arbitrarily manipulate pixels in real time, locally in conjunction with the Raspberry Pi.
"As limited by the prevailing law, the NeTV2 can only process unencrypted video and perform encryption-only operations like video overlays through a trick I call "NeTV mode". However, it's my hope this is a sufficient platform to stir the imagination of developers and users, so that together we can paint a vibrant picture of what a future looks like should we have the right to express our ideas using otherwise controlled paints on otherwise denied canvases."
The NeTV2 board is available for $200, or $225 with a specially designed case. There's also a complete kit for $320 that adds the new, 1.4GHz Raspberry Pi 3 Model B+, an 8GB preloaded microSD card, and a custom HDMI Flex Jumper, which is separately available for $15.

Both the board and full kit are available with a $100 option that boosts the board's Xilinx Artix-7 FPGA from an XC7A35T with 32K logic cells to a top-of-the-line XC7A50T with 52K cells. The campaign is open through June 29, but the board won't ship until May 31, 2019.