Moto Mods developer boards: sensor, display, and Raspberry Pi HAT compatible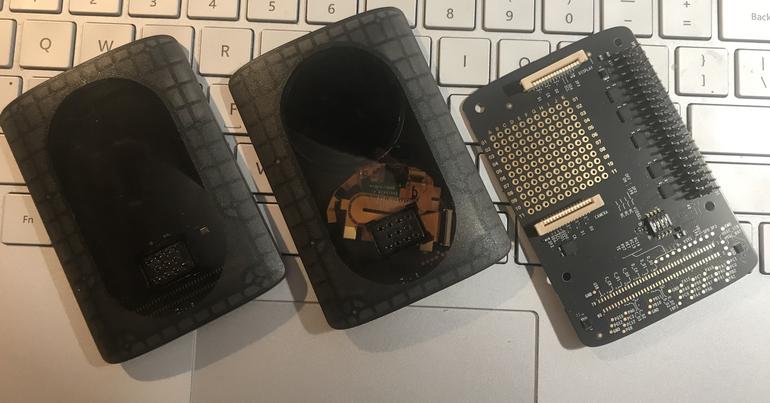 Modern mobile devices are, in most cases, pretty boring. Maybe we're missing the spirit of innovation we saw at the start of the 3G era, with phone designs that went off in strange new directions.
So what then of our future? Will we have devices that are more flexible, able to fit in with work and play, adding functions by snapping on and off new hardware as we go?
Motorola's Moto Mods could be the answer. With support from familiar brands, they offer additional battery capacity, projectors, Amazon's Alexa, cameras, even printers, all in magnetically-connected swappable phone backs.
Motorola's Moto Mod developer kit provides hardware and code samples that help you start building your own phone add-on hardware. The underlying plan is clear, by showing developers what can be built, they're able to first try out software ideas before building their own hardware.
Mods are constrained by the shape of Motorola's Z-series devices, so part of the program includes CAD and 3D printer files for cases, as well as pin outs for the connector used to link phone and Mod.

The development kit is simple enough, a case that's big enough to fit any of a selection of basic modules, and a downloadable SDK. Open the back of the case, and you'll find a perforated circuit board, ready for you to add your own circuitry.
Open source code on Github is a good way to build your first apps, and Motorola gives you plenty of documentation. There's code for both sides of the Mod, firmware for the Mod itself, and Android libraries that work with your own device apps. The sample apps are relatively basic, but that's an incentive to build something a lot more compelling and a lot more focused on what your users want.
There's another option, too, in the shape of a board that accepts Raspberry Pi-compatible HATs. That way you can build and test hardware and firmware on familiar maker boards and using open source hardware, before taking your HAT and using it as the basis of a Mod.
Support for Raspberry Pi HATs also means you can take advantage of a wider IoT ecosystem.