LORA™ Shield for ARDUINO™.
By
Staff
on December 5, 2015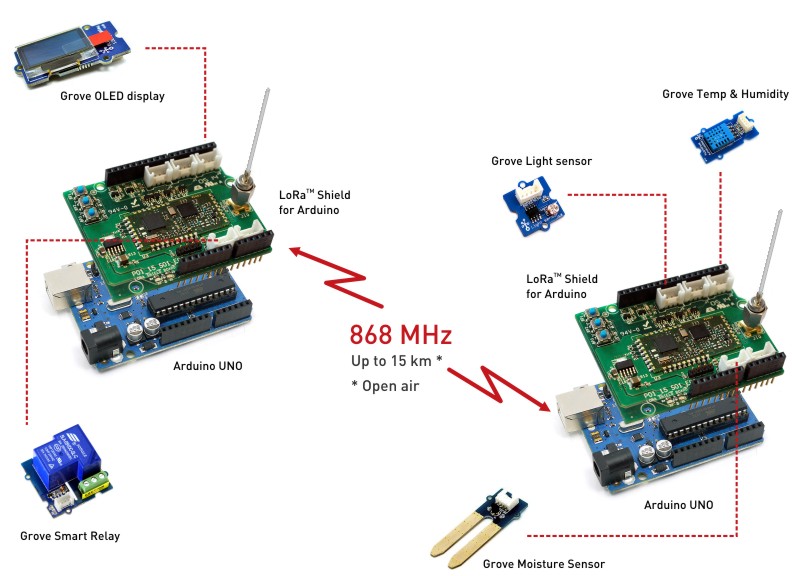 LoRa™ shield for Arduino™ is a long range transceiver on a Arduino shield form factor, compatible with Grove modules and based on Open source library.
It can be used, as suggested application, to control a geographically distributed automation system like a road lighting system or similar.
It is based on the Aurel XTR8LR100 module:
RTX-LONG-RANGE radio transceiver half-duplex, offers improved performance, as such as longer RF range up to 3 Km, operates in European band 869,4÷869,65 MHz free licensed with no government taxes.

The high sensitivity level (-118 dBm) joined with its typical ERP (500 mW) can assure a budget-link around 145 dB, improving communication distance of 4-5 times better compared with traditional 10 mW LPD devices.

RTX LONG RANGE (650201374G) – Shortform – User Manual

Modulation: FSK (FM)
Supply: 5V
Frequency: 868.30 MHz
Sensitivity: -116 dBm
Output Power: 500 mW
Consumption: 500 mA (TX) – 32 mA (RX) – 10 µA (standby)
Dimension: 33 x 23 x 8 mm

Source: LORA™ Shield for ARDUINO™.