Leguino Educational Hacker Kit on Kickstarter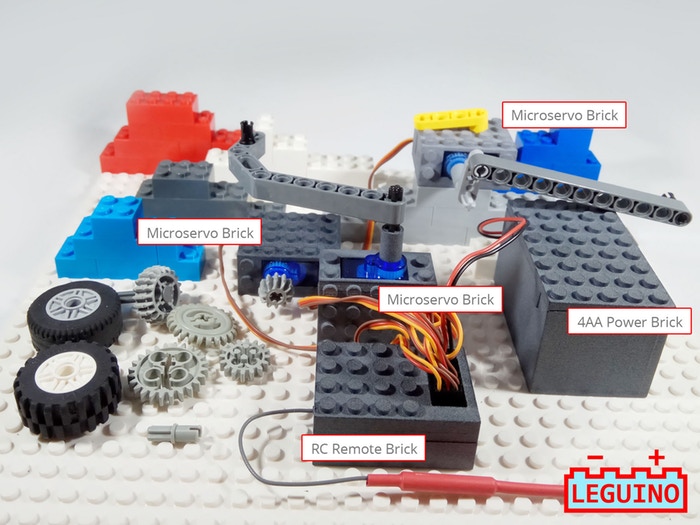 A Belfast based startup called Leguino has launched a Kickstarter project for a Leguino robotics and hacking kit designed to integrate with existing Lego parts. The kit provides a variety of add-on sensors, motors, and other gizmos as Lego-style bricks for easy integration with Lego designs. Most of the lower cost designs are sold in kits with Arduino Uno or Nano bricks, but one higher-end kit is powered by a Raspberry Pi Zero W.
Both the Arduino and RPi-based kits can be programmed with a visual, drag-and-drop development kit called Visuino, which is based on the Rockbotic coding education software.
"Leguino integrates the worlds of Lego® models and micro computer technology: Raspberry Pi and Arduino™. The Leguino parts contain Arduino™ and Raspberry Pi compatible electronics and fits them physically into LEGO® compatible brick cases.

Leguino delivers brick shaped cases for the most common Arduino™ electronic components to enhance LEGO® projects and open them to endless possibilities.

Leguino contains the visual software creation tool Visuino and the Rockbotic™ experience to deliver the most seamless way to learn. To play. To invent!"
Add-on bricks for both the Arduino and RPi based kits include Breadboard, Microservo, Gear Motor, 4AA power, Remote, Switch, Buzzer, Potentiometer, Button, Microphone, LED, Infrared LED, OLED Display, and LCD Display Bricks. Sensor bricks include Proximity, Lightsensor, Climate, and a Body Sensor Brick with a pyroelectric infrared detector that acts as a motion detector.
Visit Leguino's Kickstarter page and purchase your favourite kit!