Large area CNC router
The Maslow is a large format CNC router capable of cutting wood and other materials with precision and repeatability, based on a digital file. A CNC (computer numerical control) machine allows manufacturers to automate the cutting process in woodworking and other manufacturing operations. Once the Maslow is built and the software installed, you will have a fully functional CNC machine capable of cutting an area of 1.2 × 2.5 meters, with adjustable depth of cut. The design is open source, so anyone can build it, from scratch or from a kit.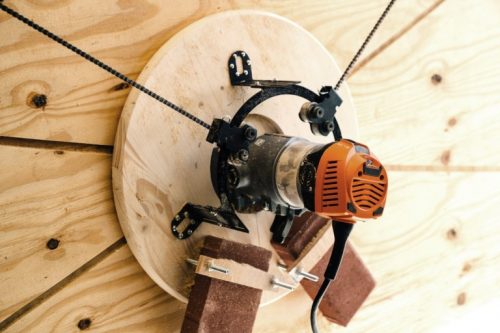 An Arduino Mega 2560 is used as the "brain" of the machine associated with the shield for the motors. The machine is controlled using open source software called Ground Control, available for Windows, Mac or Linux. Throught Ground Control, you can move the machine where you want to start a cut, calibrate it, open and run a G-code file, or monitor the progress of a cut in progress.