Koov, the educational robotics coding kit by Sony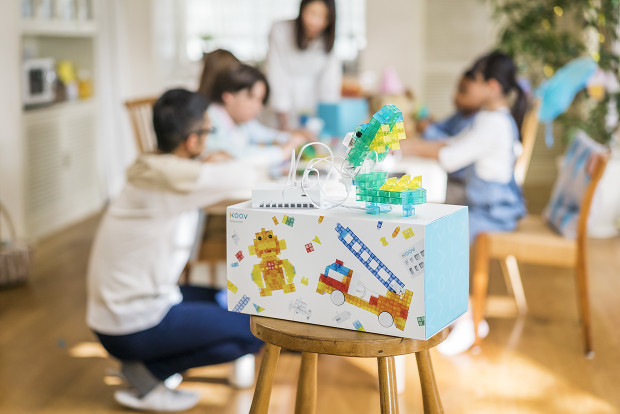 Sony is the latest tech giant to use a crowdfunding platform to test the waters. In this case, Sony will essentially be using Indiegogo to gauge customer interest and hopefully gain some insight into the U.S. market as it works to shape the product for a new region.
The company certainly has the resources to do so here, but for one thing, the market is still a little shaky. There are plenty of different kits aimed at teaching kids to code and build robots.
Sony's Koov kit has been kicking around Japan for a while now, and should be pretty familiar to anyone who's spent time with Lego's educational initiatives — it's a set of blocks, sensors, motors and actuators that pair with a mobile app.
Koov is also the first hardware product out of Sony's Global Education wing, it seems like a startup within Sony, which implies a certain sense of autonomy and probably goes a ways toward explaining the cautious approach. It really wants to get its first product right, and it's certainly put a lot of thought into the hardware and software side of things.
The kit's currency is little, brightly colored translucent blocks. Kids can use the app to build 23 different pre-determined designs or "Robot Recipes" with the 302 block Advanced Kit.
However the coding and robotics skills that Koov teaches are pretty abstract. Unlike Apple, whose programs use the coding language used by iOS, macOS, watchOS, tvOS, Sony developed its own language for the toy. It's built around the Scratch educational programming language, but the end goal here seems to more of building up that initial interest in coding, rather than developing concrete coding skills. Sony's kit mostly teaches kids to code for Sony's kit.

The same goes for the hardware, which is powered by a micro-controller based on Arduino. The potential for open-source learning is there, but in its current state, Sony seems to have the system pretty locked down. Perhaps that's the kind of thing the company will work toward,  with the proper feedback through its Indiegogo campaign.
Last but not least, the price could be the biggest red flag: Lego's new Boost set starts at $160, while Koov's suggested retail price is $359 for the Starter Kit and $499 for Advanced.