IoT LoRa Boards Run on Raspberry Pi, Arduino and Micro:Bit!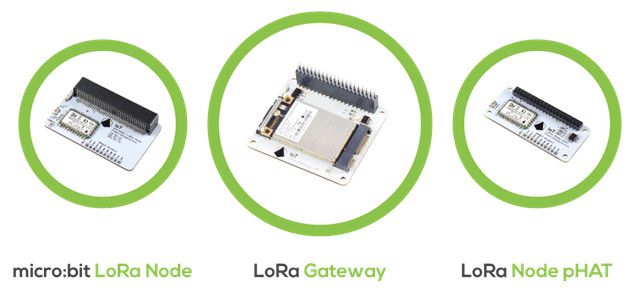 Pi Supply, which has produced a variety of Raspberry Pi add-on boards, is now on Kickstarter to launch a series of IoT LoRa Boards that work with the Pi. The offerings include an IoT LoRa Gateway HAT board starting at an early bird price of 120 UK Pounds ($157) and a LoRa Node pHAT node board with a 25 Pound ($33) early bird price.
Both boards support any 40-pin Raspberry Pi, and they may also work with other SBCs with Pi-compatible 40-pin connectors, including the tested Asus Tinker Board, Asus Tinker Board S, and Odroid-C2. Pi Supply is also selling a Micro:bit LoRa Node board that works with the open source, Cortex-M0 based BBC Micro:bit board.
The IoT LoRa Gateway HAT is built around the RAKWireless RAK833 mini-PCIe module. This LoRa gateway concentrator is in turn driven by a Semtech SX1301 LoRa baseband chip, which is also used on Arduino's LoRa Gateway Kit shield. The RAK833 module enables the IoT LoRa Gateway HAT to listen on 8x channels simultaneously.
The LoRa Node pHAT and micro:bit LoRa Node boards both use the RAKWireless RAK811 LoRa radio module. Both the Pi and Micro:bit compatible nodes provide 8x pins that can be controlled via UART, including two for analog sensors. A u.FL connector and onboard antenna are also available. Both node boards consume less than 50mA maximum during transmission and are said to typically run at 30mA at 3.3V peak during operation and less than 1mA during sleep.

Further information are available at Kickstarter page.