HP Launches Speedy 3D Printer: 10x faster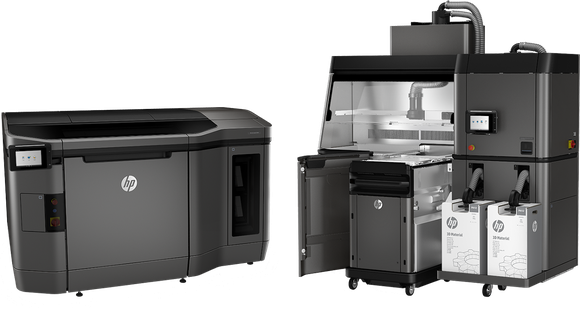 The highly anticipated day in the 3D printing world arrived a few days ago, when 2D-printing king HP Inc unveiled at RAPID, one of the world's largest industry conferences, its speedy polymer commercial 3D printer, the Jet Fusion 3D 3200. The company's now taking orders for the 3200, which will be available in late 2016, while its more powerful sibling, the 4200, will follow in 2017. It also announced a bevy of A-list partners, including Nike and BMW.
The Jet Fusion 3200 is reportedly up to 10 times faster than printers powered by the leading 3D-printing technologies, fused deposition modeling (FDM) and selective laser sintering (SLS). It's also reportedly the first commercial 3D printer based on an open software and materials platform. So HP's business model is markedly different than the proprietary razor-and-blades-like model employed by leading 3D printing companies 3D Systems Corporation and Stratasys Ltd.
HP's MJF tech owes its superior speed and other standout features to the fact that it prints at the individual voxel level. (A voxel is the 3D equivalent of a 2D pixel in traditional printing.) Voxel-level printing will allow for limitless combinations of colors and materials, providing customers with unprecedented customization capabilities, according to HP.
The company believes unique applications lie on the horizon, providing the following examples as possibilities:
Printing with embedded intelligence, like sensors in parts, as part of the Internet of Things.
Printing of parts with embedded information, like invisible traces or codes, to deliver a future of increased security and tracking for reinventing supply chains.
Source: HP Launches Speedy Production-Grade 3D Printer