Google AIY kits 2018: Raspberry Pi Zero WH SBC for the Voice and Vision Kit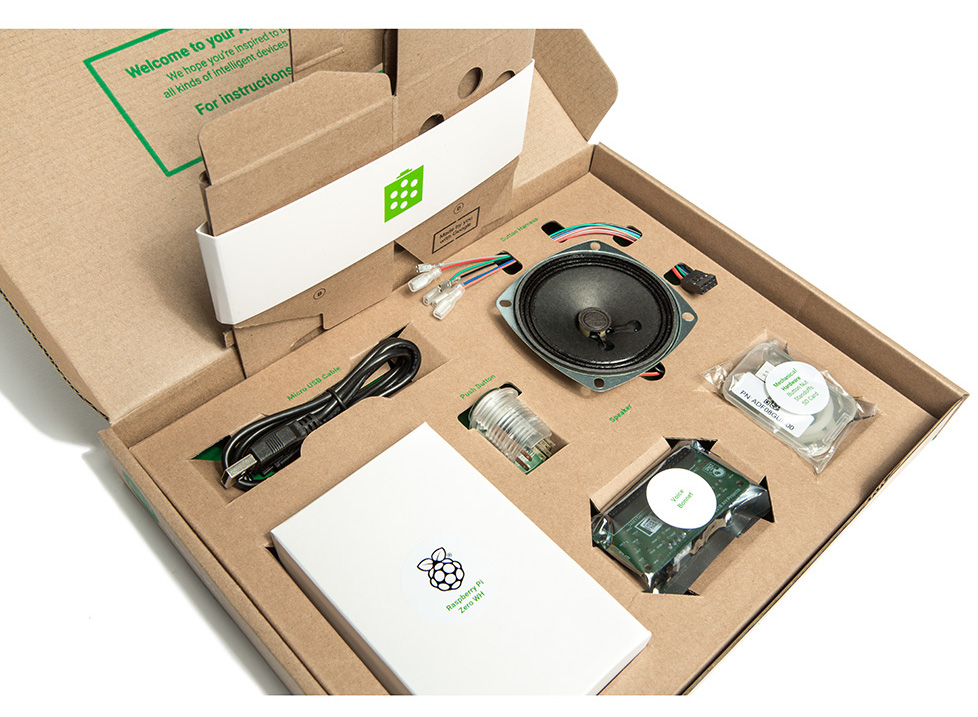 Google has launched updated, and more complete, versions of Google's AIY Projects kits for audio voice agent and visual neural network processing development that bundle a Raspberry Pi Zero WH SBC. The Zero WH model adds to the standard Pi Zero W a soldered 40-pin GPIO header for easier prototyping.
In addition, users of Google's existing AIY Voice and Vision Kit can now download an Android companion app that works with all old and new AIY kits. The new kits also add a USB cable and a pre-provisioned microSD card.
The new Vision Kit appears to include everything in the original Kit, which offered an RGB arcade-style button, a piezo speaker, a macro/wide lens kit, and the cardboard enclosure. You also get flex cables, standoffs, a tripod mounting nut, and connecting components. The updated AIY Vision Kit also bundles the Raspberry Pi Camera v2.
The new AIY Voice Kit, appears to include the same Voice Bonnet HAT and Voice HAT Stereo Microphone boards. Announced last May, the Voice Kit offers access to the Google Assistant SDK and Google Cloud Speech API to enable devices with voice response and AI functionality linked to Google's search engine cloud services. The new kit appears to include the same 4-ohm speaker, wires, micro-switch, and arcade button.

More information can be found at linuxgizmos.com or at the Official Kit Announcement.