Ewe industries releases its acclaimed printers seen at MFR Rome 2015
By
Staff
on November 13, 2015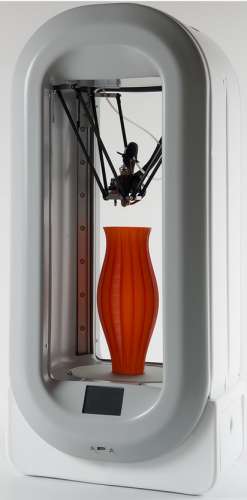 After winning a design prize in 2014 when Ewe showed during the Maker Faire Rome its ERA 3D printer, this year they presented two more interesting models, a big printer (60x40cm printing area) named Olympia and a delta printer kit.
An interesting filament extruder has been released too, very useful to allow you creating your own filament out from recovery material.
The first 3D printer matching high quality Italian Design with ease of use and maximum reliability. ERA 3D printer can be placed in any context you want.
 only €1,780.00 + vat
Delta FFF Technology
Display Touch 2,8″
File Transfer via USB Port/WiFi
Connectivity WiFi
Nuzzle 1.75 filament / out put 0.35mm
Bowden Extruder
Print Volume h 250mm / d 170mm
Resolution 50 to 300 micron
Printing Speed 200 mm/s
Traveling Speed 300 mm/s
Glass Plate 4mm adjustable
Self-lubricating Rails Axis Movement
See our professional, industrial-grade, upgradeable new 3D delta printer with large volume a the best market price.

 only €4,900.00 + vat
Delta FFF Technology
Display Touch 2,8″
File Transfer via USB Port/WiFi
Connectivity WiFi
Nuzzle 1.75 filament / out put 0.35mm
Bowden Extruder
Print Volume h 600mm / d 400mm
Resolution 50 to 300 micron
Printing Speed 200 mm/s
Traveling Speed 300 mm/s
Glass Plate 4mm adjustable
Self-lubricating Rails Axis Movement
Filament Extruder
 Ewe filament estruder w/ white case completely assembled and tested – delivered in 30/40 days
1x Motor
1x Plasticizing screw
1x structure (which includes an aluminum base, extrusion barrel divided into a main body made of steel and a brass terminal)
1x RTD (Resistance Temperature Detector)
1x Electronic set (which includes logical extrusion control, cooling fan, power supply)
1x Hopper
All nuts, bolts, and screws
ALREADY ASSEMBLED E TESTED
Source: Ewe industries – Easy 3D Printing – Italian Industrial Design