DIY a Tiny Single-PCB Synthesizer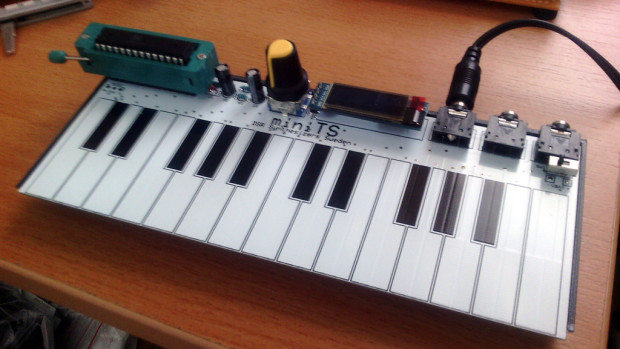 If you're thinking of getting into DIY synths, the mini-TS could be your ticket in.
Built by Janostman, the mini-TS pushes the limits of completely stripped back sound synthesis. The adorable synth shares the same basic sound-generation firmware with his previous TinyTS, but features a lot more keys (2 octaves), an OLED, and MIDI in/out, while taking away some of the knobs.
The keyboard is made of copper pads placed over a ground plane, and the code does simple capacitive-sensing to discern whether they're being touched or not. You can also grab a mini-TS and fiddle around with the code – which is open source – to get even more creative. Or you could just take the code and make a less refined version for yourself with a cheapo Arduino and some copper plates.
Anyone with PCB layout practice could get a clone worked up in an afternoon, although it's going to be cheaper to get these made in bulk, and you're probably better off just buying one from Janostman.

Features of the mini-TS:
Clickable rotary encoder and 128×32 graphic OLED display for parameter entry.
2 Phase Distortion DCO's with Detune
1 DCF Peak with ENV Modulation
1 DCA with AR-Envelope
CV/Gate 1volt/Octave output.
2 CV Inputs
1 Stereo Audio Output
PCB pads for MIDI Rx & Tx signals.
The stereojacks are TRS-type and have CV inputs on the ring.